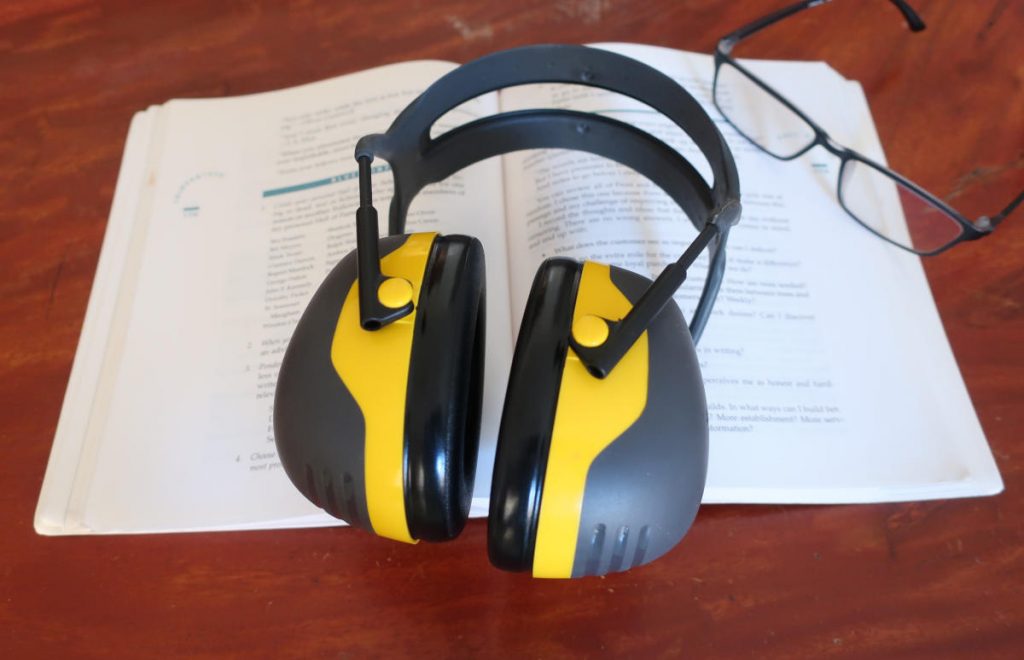 Our brain is constantly listening to what is happening around us, and intermittent noises draw our attention away from studying whether we want it or not.
Noise reduction earmuffs are an inexpensive and effective antidote against these distractions.
Noise sources include talking, rustling paper, eating noises, coughing, ringing phones and message alerts, video game sounds, clicking keyboards, etc.
Memory, math, and reading comprehension all suffer. Studies have shown that performance can deteriorate by 30% and more.
I have used earmuffs (and other tools) for years to block out distractions while reading, writing, thinking, and meditating, and I still do.
All muffs recommended in this post were acquired at standard retailers and used in a variety of different settings. I have additionally subjected them to tests with coffee shop noise, cafeteria noise, and pink noise.
By how much do earmuffs reduce everyday noise?
Good study earmuffs reduce noise by 30 to 40 decibels in the frequency range from 500-8000 Hz, the range in which many everyday noises occur.
If you consider that a noise reduction by 10 decibels means halving the perceived loudness, this is huge.
What's more, you don't have to block all noise to make a difference when it comes to studying.
Every click, rustling, creaking, and attention-grabbing conversation that doesn't reach your ear conserves brain resources.
But I want you to keep your expectations realistic:
No earmuffs (even the bulkiest ones) and no other noise reduction tool that covers or plugs the ear can create complete silence in a noisy place.
In a classroom, coffee shop or cafeteria, noise levels can go up to 60 decibels and more.
Earmuffs lower the volume by a lot and take the edge off noise, but you will still hear louder conversations and screeching chairs.
You can improve on this by using a masking sound such as white noise or water sounds (e.g., waterfall, rain). For more on how to do this, please check my post How to Block Out People's Voices.
You have two choices:
Passive earmuffs without speakers: They offer good sound isolation and reduce the volume of a large range of distracting noises.
Listening to sound via smaller earbuds underneath works, but can somewhat reduce wearing comfort.
Earmuff headphones (often with Bluetooth): They work like passive earmuffs, but you can additionally play white noise or waterfall sounds to mask loud noises (e.g., chatter) that make it through the passive sound isolation.
You can also use these to listen to lectures, podcasts and focus music.
Summary best earmuffs for studying
All short-listed earmuffs effectively reduce everyday noises students typically encounter and don't look ridiculous. They are sturdy, have a well-adjustable headband, ample space for most ears, and replaceable ear cushions.
Best for adult students: Peltor Sport Bull's Eye (NRR 27)
Why: Effective noise reduction and good looking at a medium weight & profile
Downside: At min. headband extension not small enough for younger children
Best for light earmuffs, young learners, and classroom use: Peltor X2A (NRR 24)
Why: Effective at only 7.7 oz., great headband and very rugged
Best earmuff headphones for students: 3M Worktunes Connect (NRR 24)
Available as foam edition and gel edition (gel more spacious, better for large ears)
Why: Good earmuffs plus you can stream masking sounds (e.g., white noise), focus music, and lectures via Bluetooth (or wired)
Downside: Heavier than comparable earmuffs without speakers
Best study earmuffs for very loud environments: Peltor Sport Ultimate (NRR 30)
Why: You have to study in a very loud environment, e.g., nearby construction, rumbling trucks and other low-frequency noise
Downside: At 13 oz., heavy and bigger ear cups. Not recommended for children
Recommended earmuffs details
Rationale for the recommendations
I have used all earmuffs in this post in a variety of different settings and tested them against coffee shop noise, cafeteria noise, and pink noise.
Most of the recommended earmuffs have noise reduction ratings from 24-28.
This leads to good to very good mid-and-high frequency noise reduction at a moderate weight and profile.
In case you need to maximize noise reduction to fend off heavy road traffic or construction next door, I have included a suggestion for larger NRR-30 earmuffs.
In most study situations, the lighter and more discrete options should do just fine.
I aimed to select earmuffs that meet the following criteria:
Can be worn in public,
have a well-adjustable headband (extension and ear cup tilt),
offer ample space for the ear,
are sturdy,
have replaceable ear pads,
allow upgrading to gel ear cushions for added comfort and ear space
Many earmuffs are inexpensive, but being able to replace only the ear pads helps to reduce plastic waste. In addition, you can optionally use different cushions if you find the stock ear pads uncomfortable or too small for your ears.
Peltor Sport Bull's Eye (NRR 27): Recommendation for adult students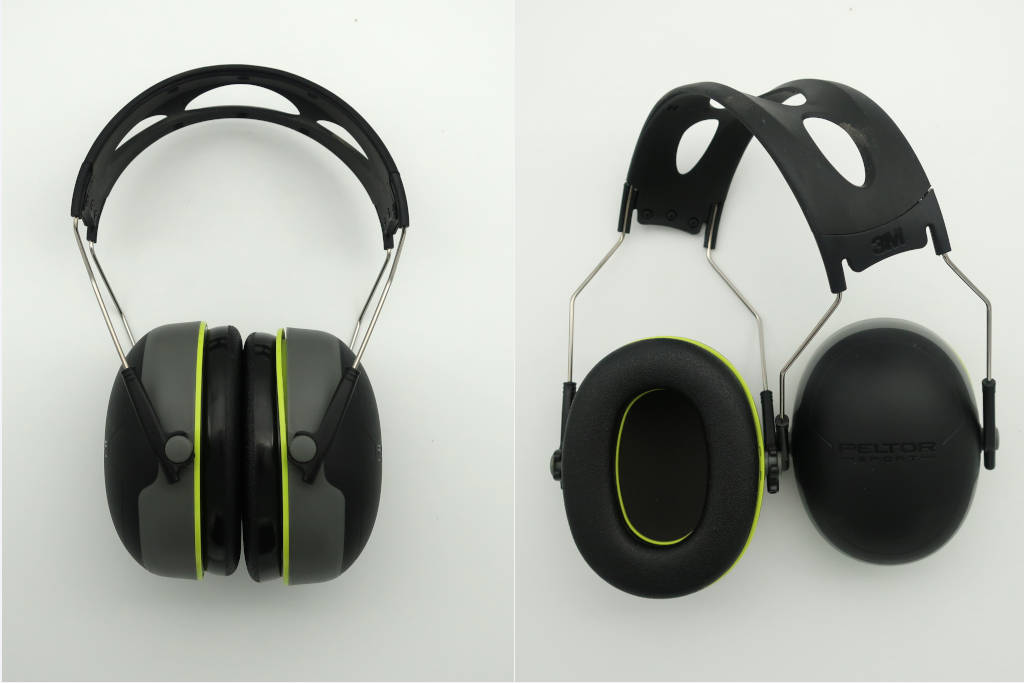 For study earmuffs without speakers, the Bull's Eye are my current favorites.
They effectively reduce everyday noise and have a medium weight (9.5 oz., 269g) and a medium profile.
Note: For a child, these muffs may be too large even at minimum extension; the X2A described below can be made smaller.
The Bull's Eye look good and can be worn anywhere you go, such as in a coffee shop, library, etc., without standing out or looking stupid.
They are among the most adjustable earmuffs and the ear cushions provide ample space, even for large ears. The cushions are replaceable when worn out.
Optionally, gel ear cushions are available for these muffs that provide even more space and work better with glasses.
Tip: When using these and other muffs as study earmuffs, place reading glasses temples' on top of the ear cushions, instead of inside. I find this the most comfortable option.
Please also check the following posts:
For an in-depth review of these earmuffs: Peltor Sport Bull's Eye and Sport Ultimate Review
For more information on gel ear cushions and improving wearing comfort for earmuffs: How to Make Noise Reduction Earmuffs More Comfortable
Peltor X2A (NRR 24): Ideal for young learners, students who want very light muffs, and classroom use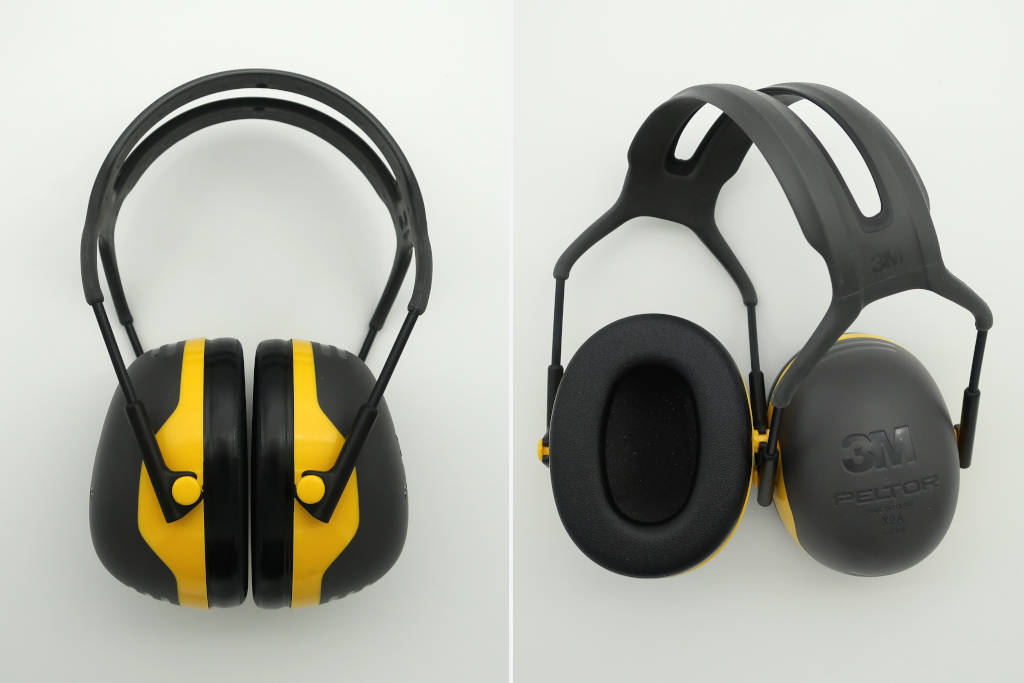 Weighing only 7.7 oz. (217 g), the Peltor X2A are very light earmuffs.
Overall, they are a tad less effective than the Bull's Eye, but with the kind of noise you typically get in a study environment the difference is barely noticeable.
Despite being light, the X2A are very rugged earmuffs (rubberized cups & headband) and can take quite a beating.
I have used these and other X-series earmuffs, and have never been able to damage any of them.
The headband may look as if it was plastic, but it is actually made of a good layer of rubber molded over a steel wire core. Some headbands can create pressure points at the top of the head, but I have not had issues with this one.
You can change both the headband's extension and the tilt of the ear cups
By comparison, the Bull's Eye headband is a little more extendable, but the X2A also fit most adult heads, and they can be made smaller to fit young learners.
The ear cup openings of these muffs provide ample space for the ears (more than the X4A from the same series).
The ear cushions of the X2A are replaceable and 3M offers hygiene kits (ear cushions + foam lining).
Should you at some point decide, you want even more spacious and softer ear cushions, you can also use gel cushions.
Tip:
While there are no "official gels" for these earmuffs, both the GEL-HYG the Prohear GEP01 snap into the ear cups (review). The GEP01 are softer (a bit more comfy) but when used with the X2A, they are somewhat less effective at reducing noise than the GEL-HYG.
3M Worktunes Connect (NRR 24): Earmuff headphones with Bluetooth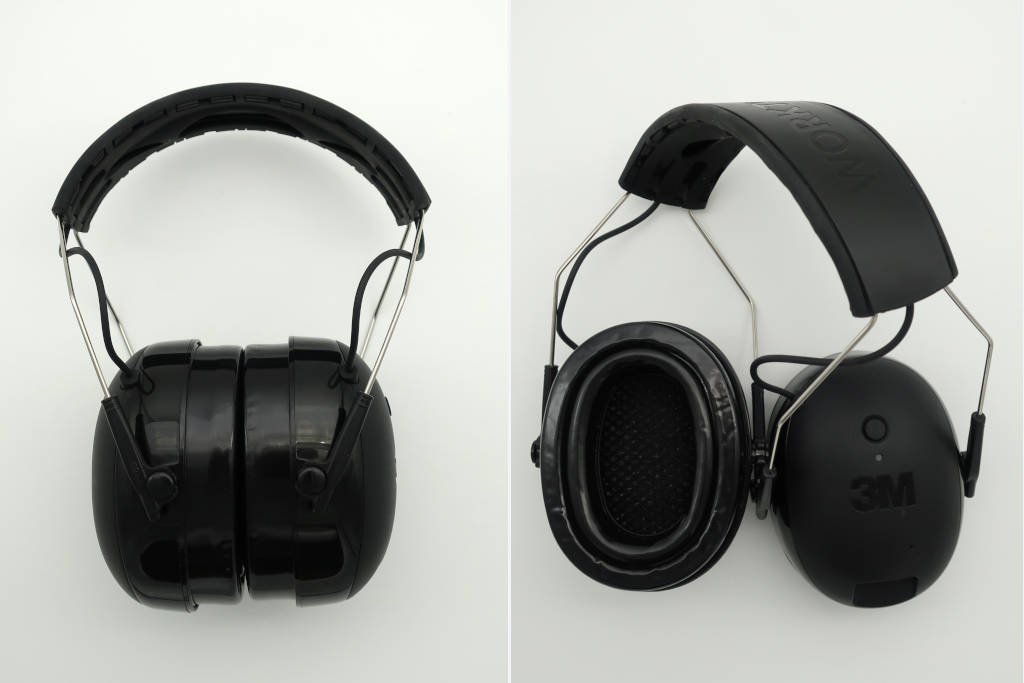 The Worktunes Connect offer a great overall package: they are good passive noise blockers, have built-in Bluetooth headphones with a 40-hour rechargeable battery, and look sleek.
You can use these earmuffs without power to reduce noise like you can with any other noise reduction earmuffs in this post.
In addition, you can also connect them via Bluetooth / wired to your phone or computer and listen to lectures, podcasts, and audio books. You could even take phone calls (not recommended while studying).
Finally, you can use white noise, waterfall sounds or focus music to enhance study performance and mask loud noises (e.g., loud conversations) that make it through the passive noise isolation.
The Worktunes Connect come in two configurations: with foam ear cushions and with more spacious gel ear cushions.
Both are good, but if you have large ears, I recommend you get the gel version.
Notes:
At 12.35 oz. (350g), they are heavier than earmuffs without speakers but comparable noise reduction. For adult students the weight should be fine, but they may be a bit heavy for a smaller child.
Unlike normal headphones, these earmuff headphones have a built-in volume limiter which attempts to keep the volume at a safe listening level (<82 dB).
The ear cushions of the Worktunes are replaceable.
For more information, please read my detailed review of the 3M Worktunes Connect.
NRR-30 earmuffs for maximum noise reduction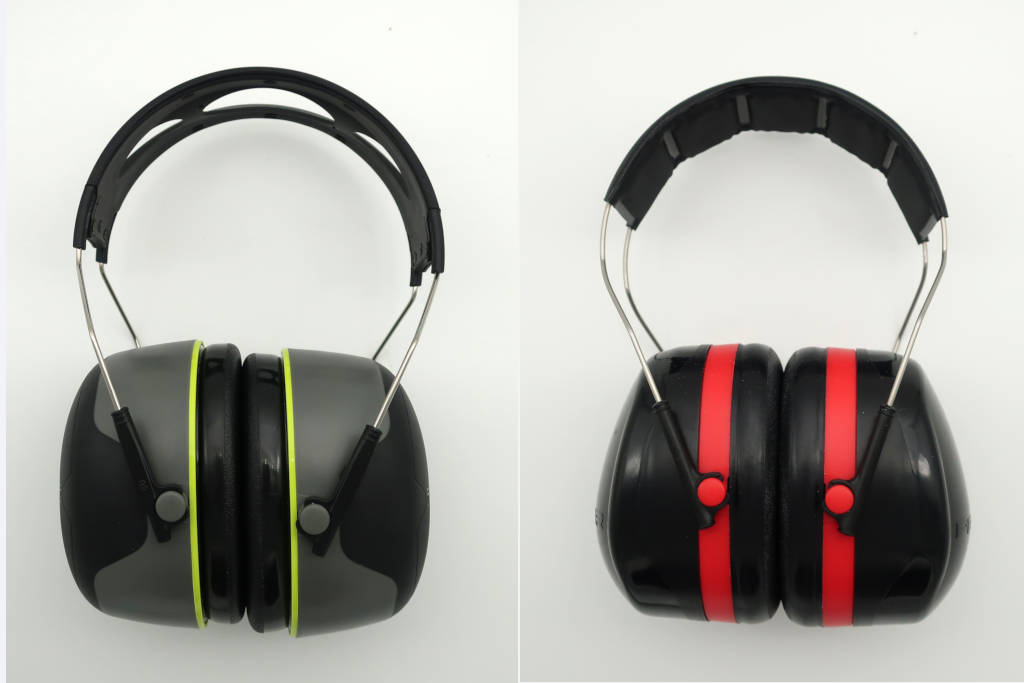 Earmuffs with an NRR of 30+ are designed as a hearing protector in high noise environments.
If they really are NRR-30 earmuffs, they also reduce everyday noise better than earmuffs with a rating of 24 to 28. The difference is noticeable with low-frequency and low-mid-frequency noise.
If you are bothered by road traffic or have construction going on next door, or need to make a loud environment as quiet as possible, they are a good option.
The downside is that they are a bulkier (big ear cups) and typically heavier, and some of them look huge.
But note, even they will not completely block loud conversations, screeching chairs, and loud clicking noises.
For most study situations, I recommend mid-NRR (24-28) earmuffs. They take the edge off the noise around you without being too big.
Here are two recommendations for NRR-30 earmuffs
Peltor Sport Ultimate
The Ultimate are the larger brother of the Bull's Eye. They have the same headband and ear cushions with ample space for the ears, but use bigger ear cups with more mass.
This results in a weight of 13 oz. (368 g) as opposed to 9.5 oz. (269 g) for the Bull's Eye. I am OK with the weight, but would not recommend these muffs for children.
Despite being large, in my opinion they still look good, and the Sport Ultimate are very effective at reducing noise.
For more information, also read my comparative review for the Sport Ultimate, Bull's Eye, and the Optime 105 listed next.
Optime 105
At 10.1 oz. (286g), the Optime 105 are substantially lighter than and virtually as effective as the Sport Ultimate.
On the downside, the ear cups are as big as the Ultimate's and they look much more like construction earmuffs.
They also offer somewhat less space for the ears than the Ultimate (but are still roomy enough for most ears).
The ear cushions of the Optime 105 can be replaced. At present, no gel cushion upgrade is available.
Final thoughts
Earmuffs, with or without speakers, are a great, inexpensive study tool.
If you find your environment too loud or distracting or easily lose focus try a pair. You may be surprised how much better you'll be able to concentrate even if you can only cut out half of the distracting noises.
How do earmuffs compare to active noise cancelling headphones?
Both can be used to reduce distracting noises.
Earmuffs: No frills, but effective at reducing most everyday noises. Great bang for your buck! Just get a pair and toss them in your bag.
You have to get used to a significantly higher headband force than with normal headphones though. But they stretch over time.
Good active noise cancelling headphones cost more. They sound better than earmuff headphones, are more comfortable, and are better at reducing low-frequency noise. But to do this they need to be turned on.
They are typically weaker than earmuffs at reducing mid frequency noise, including speech. You can compensate for this if you don't mind playing a masking sound (white noise) or focus music.
For other options for reducing noise while studying, please also read my post The Best Tools to Block Noise While Studying or Working in an Office.