I have recently tested both the XTRA 2.0 and Liberate 2.0 Bluetooth earplug headphones and posted detailed reviews.
In this post, I am contrasting their main strengths and weaknesses to help you decide between the two.
For more information and tips & tricks for the XTRA 2.0 and Liberate 2.0, here are links to the detailed reviews:
For an in-depth comparison of the wired models, please check this post:
Summary
The two main advantages of the Plugfones Liberate 2.0 earphones over the ISOtunes XTRA 2.0:
1. Out of the box, the Liberate sound better and can be used without much equalization in virtually all apps on both Android and iOS.
The XTRA are very bass-heavy—definitely too much for me, so I have to turn down the bass by a lot.
They can be equalized to sound as good as the Liberate.
On iOS, I have installed an extra music player with EQ (see the review for more info how to EQ the XTRA), and then they sound great.
But in apps that don't have an EQ, one has to put up with the default sound.
(My Android phone has an EQ that works in all apps so I can modify the sound for all apps at once.)
2. The Liberate have rated silicone ear tips while with the XTRA you have to go with foam tips.
I usually prefer foam, but for some users silicone works better.
For me, the Plugfones' silicone tips reduce a decent amount of noise, but not as much as foam tips.
On the other hand, silicone tips are easy to insert, remove, and clean; and they are typically very durable.
The XTRA 2.0 perform better than the Liberate 2.0 in the majority of categories, but most importantly:
1. For me, they are more effective at reducing noise thanks to their foam tips.
They come with four different sizes of foam ear tips, so most people should find one that seals properly. The Liberate come with only one size of foam, which is on the smaller side. It doesn't fit me.
2. The XTRA are built sturdier and have a high water-and-dust-resistance rating (IP67). (Liberate are advertised as sweat proof/moisture resistant, but don't have an IP-rating.)
3. The microphone rejects more noise and works better for phone calls, in particular in a moderate noise environment.
4. While both have Bluetooth 5.0, only the XTRA 2.0 allow for two active connections at the same time. So you can, for example listen to music from one phone or tablet, while still being able to receive calls from a second phone.
5. For the XTRA, the noise attenuation data is complete (NRR, attenuation by octave band) while for the Liberate, only the NRR was available. Moreover, the XTRA also come with a European SNR and attenuation data.
In a nutshell:
Both are good earplug headphones.
Overall, as a noise reduction device, the ISOtunes XTRA 2.0 are better, but the Plugfones Liberate 2.0 sound better.
If you have a larger ear canal, the XTRA give you a better chance of getting a good fit.
If you want silicone, take the Liberate.
Ear tip selection
| What | XTRA 2.0 | Liberate 2.0 |
| --- | --- | --- |
| Foam ear tips | 4 different sizes (NRR 27) | 1 size (NRR 29) (for small ears) |
| Silicone ear tips | None with NRR | 1 size (NRR 27) like standard triple-flange earplugs |
As can be seen, the size of the Liberate foam (yellow) is pretty similar to the small XTRA foam tips (black) (and substantially smaller than the medium size tips).
(I need the medium-size foam tips.)
The Liberate's silicone ear tips are sized like many standard silicone earplugs. Ideally there would be two additional silicone sizes as well, one for small and one for large ear canals.
Winner foam: XTRA 2.0
Winner silicone: Liberate 2.0
Noise reduction and provided attenuation data
| What | XTRA 2.0 | Liberate 2.0 |
| --- | --- | --- |
| Noise reduction | Good | OK (with silicone) |
| EPA NRR label | Yes | Yes |
| Noise attenuation data by octave band | Yes | Not provided |
| European SNR | Yes | Not specified |
| Noise attenuation data by octave band European standard | Yes | Not specified |
I compared Liberate 2.0 (silicone) and XTRA 2.0 (medium-size foam) in two high noise situations (lawn mower@95 dBA, metal saw@98).
Both effectively reduced the noise, but with the XTRA 2.0 it felt noticeably quieter.
In addition, I used NIOSH Quickfit to determine whether I am getting a good seal and at least 15 dB noise reduction. I achieved this with both, so both passed this test.
But, I had to play the earplug-in test signal quite a bit louder to hear it with the ISOtunes compared to the Liberate 2.0, which is another indication that the XTRA 2.0 attenuated noise better for me.
If you have a smaller ear canal than I have, the Liberate's foam tips might work for you. They could potentially be as effective as the ISOtunes foam tips.
Winner: XTRA 2.0
Sound Quality
| What | XTRA 2.0 | Liberate 2.0 |
| --- | --- | --- |
| Sound quality overall | Good after equalization; without equalization too much bass | Good |
| Music apps | Good in apps with EQ | Good in all apps |
| Audiobooks and podcasts | OK (clear; some narrators sound a bit bassy) | Good |
| Maximum volume limit | 85 dB | None; model Free-reign has a 82 dB limiter |
Winner: Liberate 2.0
Remarks:
To change the sound character (e.g., adjust bass & treble)) on iOS (iPhones & iPads), each app has to provide its own equalizer (EQ). If an app doesn't have an EQ, you can't change the sound.
Many Android phones have a system-wide equalizer, allowing you to affect the sound (e.g., reduce bass) for all apps.
Call quality
| What | XTRA 2.0 | Liberate 2.0 |
| --- | --- | --- |
| Call Quality Quiet | Good | Good |
| Call Quality Moderate Noise (coffee shop, small road, lawn mower at a distance) | Good | Soso (disturbing background noise) |
| Call Quality High Noise (95 dB+ lawn mower, metal saw) | Not possible | Not possible |
Winner: XTRA 2.0
Build quality and water resistance
They ISOtunes XTRA 2.0 are very well thought out:
Apart from the ear tips, they appear to be completely sealed. The control module looks completely water proof. This is reflected in both a high dust (IP6X) and water resistance (IPX7) rating.
The integrated neck collar plus the equally sized control module and battery packs keep the earbuds firmly in place.
The wires are flat and reinforced at the earbuds and the control and battery packs.
The earbuds are magnetic and when you clasp them together, the music stops.
The Liberate 2.0 are best described as corded earplugs plus a control module and a battery.
The wire is reinforced at the control module and the battery pack, but I can't make out whether it is reinforced inside the earbuds (outside it isn't).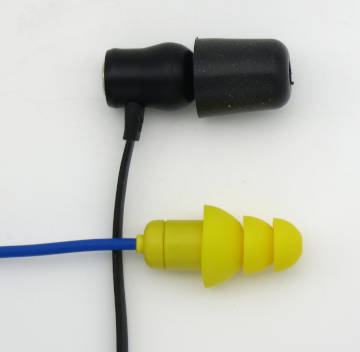 The wire itself is quite thick and, like the ISOtunes, it doesn't produce much cable noise when it rubs against a shirt collar.
I definitely needed to install the flexible rubber collar to keep the Liberate from moving around, but with the collar I am fine with the way they work.
The control module has normal buttons and there is a small gap between housing and buttons. I can't say how water resistant it is but I would keep it out of heavy rain.
Plugfones state that the Liberate 2.0 are "sweat proof and moisture resistant."
But how moisture resistant?
Overall, the XTRA 2.o appear to be more rugged than the Liberate. They look like they can take quite a beating.
But they are a very new product, so time will tell whether they really are.
The earplug-style of the Liberate is an advantage in certain situations (e.g., underneath a tighter helmet): I can insert them so deep that they are almost completely contained in the ear.
Now, because I don't want to constantly pull on the wire, I have tied a small piece of sewing thread around their nozzles.
That way I can pull on the thread to remove them.
Winner: XTRA 2.0
Battery and charging
| What | XTRA 2.0 | Liberate 2.0 |
| --- | --- | --- |
| Battery | 11 hours 40 (11 specified) | >13 hours (12 specified) |
| Charging time (5V 1A) | 2 hours | 2 hours |
| Charging port | Micro USB | Micro USB |
| Accessories | Charging cable, no charger | Charging cable, no charger |
Winner: Tie
Bluetooth connection
| What | XTRA 2.0 | Liberate 2.0 |
| --- | --- | --- |
| Bluetooth version | 5.0 | 5.0 |
| Bluetooth stability | Very good | Good |
| Connects to two devices simultaneously | Yes | No |
Winner: XTRA 2.0
Conclusion
I like both earplug headphones.
For me, the main draw of the Liberate 2.0 is their sound quality and the fact that silicone ear tips are easy to insert and carefree.
But, if I could only choose one as a work tool, it would be the ISOtunes XTRA 2.0.
I have more confidence in their ability to seal my ear and reduce noise.
Moreover, they come with more sizes of ear tips and the complete noise attenuation data is included, not only the NRR.
(If you have a smaller ear canal than I have, perhaps the Liberate's foam tips could match the XTRA's noise reduction effectiveness.)
The main downside of the XTRA is that I have to equalize them to turn down the massive bass.
After tweaking, they sound as good as the Liberate, but in apps that don't have an equalizer I have to accept the "bassy" default-sound.
(On Android phones with an EQ that works across all apps this is less of a problem.)
With both the XTRA and the Liberate, if you use foam, expect to replace the tips more often to maintain good noise reduction.
I have gone through a pair in a month with moderate use, but admittedly a lot of inserting and removing.