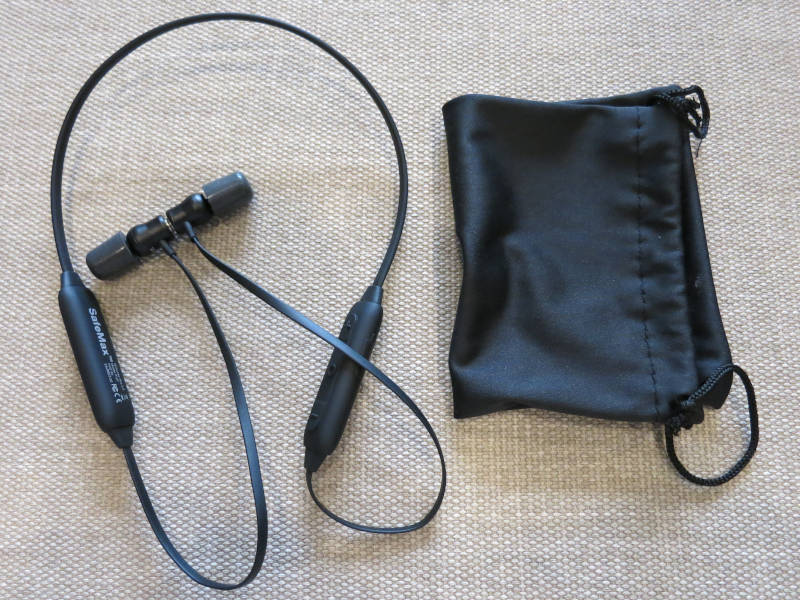 Recently I tested a pair of basic wired ISOtunes and was impressed by their noise isolation and selection of ear tips.
The ISOtunes XTRA 2.0 (NRR 27) are the wireless upgrade: they have Bluetooth 5, a rugged design and a high dust-and-water resistance rating (IP67), and they can be connected to two devices at the same time.
Importantly, they use the same foam ear tips and straight earplug design as the basic model, so I figured these should fit well.
I decided to get a pair and test them in various high noise environments.
In this post, I am sharing my experience with these work earplug headphones, including noise reduction, Bluetooth connection, sound quality, and microphone quality.
Summary
The ISOtunes XTRA 2.0 reduce noise well and the Bluetooth connection is solid even with two connected devices.
I get a good seal with the medium-size foam ear tips (4 different sizes included).
The earbuds are magnetic, and the music stops when you clasp them together.
These are very bass-heavy earphones; this includes bass guitars, kick drums, and in particular the low bass (40 to 70 Hz = electronic dance music bass). The bass is too strong for my taste.
They can be equalized and then they sound good. (For more on how to do this and limitations, see section Sound quality.)
The noise-rejecting microphone works well in a moderate-noise environment (e.g., coffee shop at around 60 dB, lawn mower at a distance).
In a high-noise environment (gas-powered lawnmower or loud saw), the microphone does reduce the noise, but the speech gets cut out as well. Communication is no longer possible.
(To put this in perspective, only very few work headphones allow for making calls against a noise level of nearly 100 dBA. See section Call quality for more info.)
Overall, the ISOtunes Xtra 2.0 are good work earplug headphones, provided you are willing to tweak the sound if necessary.
Ear tip selection and fitting tips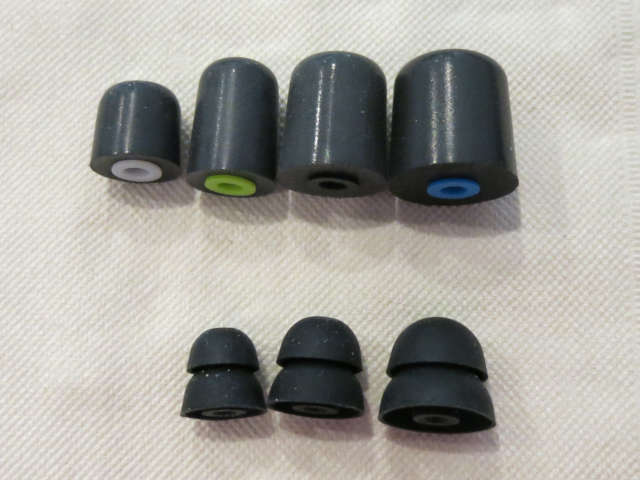 The XTRA 2.0 come with 4 different-sized (XS, S, M, L) sets of foam ear tips and 3 sets of double-flange silicone ear tips.
The foam tips are identical with the ones that come with the basic wired ISOtunes model (review), which is why I dared buying this more expensive model.
With the foam tips, these work phones have a noise reduction rating (NRR) of 27, and foam is what you need to choose if you want to use the ISOtunes as a hearing protector.
Note:
According to the manual, the included silicone tips are not for use in a noisy environment: so if you are looking for work earphones with triple-flange silicone tips, this model is not for you. In any case, the silicone tips didn't effectively reduce noise for me.
Expect foam ear tips to wear out. The manufacturer recommends replacing them every 1-3 months. Replacement ear tips (TRILOGY) for these earphones are available for purchase in sets of 5 pairs.
Choosing the right size and fitting the ear tips
In case you are wondering, the module with the buttons should be on your right side.
When I don't yet have experience with a set of ear tips, I use pink noise as a fitting noise (see section Using a fitting noise) when putting them in.
If the tips seal properly, the fitting noise gets substantially reduced.
When I don't get the expected reduction on one or both sides, I reinsert the tips; if that doesn't help, I choose a different size.
With the XTRA 2.0, I am getting a very consistent seal with the medium-size tips (and sometimes also a good seal with the small tips). So the medium-size tips it is.
I roll them back and forth between my thumb and index finger to compress them, then moisturize them a bit with my lips, lift up my ear lobe, and slide (wiggle) them in.
This may not be straight by the book, but slightly moisturized, they just go in so much easier.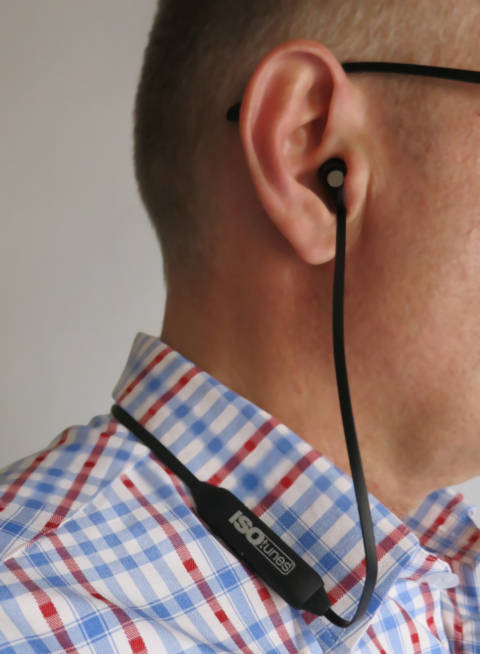 Noise reduction and maximum volume
I tested the XTRA 2.0 against a gas-powered lawn mower (95 dBA) and a metal saw (98 dBA) to assess the noise reduction against two different noise spectra:
The mower has more sound energy in the low-and-mid frequencies, while the saw, cutting through metal, produces its highest peak at between 8 and 10 kHz (high frequency noise).
Subjectively, these work earphones effectively reduced both the low/mid- and the high-frequency noise.
I also compared them to NRR-25 earmuffs and the noise reduction was in the same ball park.
In summary, using the medium-size foam ear tips, these earphones reduce noise well for me.
Maximum volume
ISOtunes attempt to limit the music volume to a max of 85 decibels to help protect your hearing.
I tried a variety of different music styles, including techno, rock, pop, and acoustic guitar in the above-mentioned high-noise environments.
With almost all songs, the earphones were more than loud enough. I also listened to podcasts and Audible audio books and had no problems understanding the narrator.
In fact, these earphones go a bit louder than most of my Bluetooth earmuffs.
Some older music pieces (and some audio books) are recorded at a very low volume.
Using a music player with gains control (like the one described below), I was able to make even that music loud enough.
Audible, unfortunately, has no mechanism to compensate for audio books that are recorded too quiet.
Complete noise attenuation data available?
The manufacturer's presentation of the attenuation data for these headphones is professional.
As per the manual, the XTRA 2.0 are rated for use in the U.S. (ANSI S3.19-1974, NRR 27) and Europe (EN352-2-2002, SNR 36).
They come with the required EPA label and detailed noise attenuation table on which the NRR is based.
Likewise, the attenuation data from which the European SNR is calculated is also included.
In essence, the expected data to assess the suitability of these hearing protectors for different environments is there.
I am pointing this out because some newer distributors of hearing protection equipment appear to forget to include the noise attenuation table.
Compared to the ISOtunes PRO
A while ago, I reviewed the ISOtunes PRO.
Unlike the XTRA and the WIRED, the PRO's ear tips are set at an angle to a relatively large housing. This angular design makes it difficult for me to get a good seal and noise attenuation.
My ears appear not to be compatible with the PRO.
I definitely prefer the straight earplug designs of the XTRA and the WIRED.
In my opinion, much less can go wrong with these.
Sound quality
Reviews of the sound of the predecessor model, the XTRA (1.0), are all over the place, ranging from "no bass," over "great bass" to … "way too much bass."
I got a humongous bass with the XTRA 2.0, way more than what I had bargained for.
How can that be?
Like earplugs, these earphones are supposed to seal the ear canal. If you don't get a good seal, you get no bass.
This is exactly what I experienced with the XTRA 2.0: if I selected an ear tip that was too small, they didn't attenuate noise and the bass was non-existent.
The medium-size ear tips fit me best. They reduce noise well, and they also trap the bass in the ear.
For me, it was way too much—humongous.
I tried rock, electronic dance music and acoustic guitar using both iOS and Android. With virtually all music, the bass was too thick.
But, the depth in the ear canal where the tips seal is different for different people and we don't all have the same canal length, so your mileage may vary.
(Read on to learn how I was able to correct the bass.)
Notes:
I tried different insertion depths and this did influence the amount of bass I got. The thing is you are supposed to insert them for maximum noise reduction, not best bass.
If you get no bass from these earplug earphones, I suspect you are not getting good noise attenuation either and need to try different ear tips.
Making my music enjoyable
My Android phone (like many others) has an equalizer that works across all apps.
When I turned the bass all the way down, the earphones sounded adequate, with still a lot of bass but clear mids and enough treble.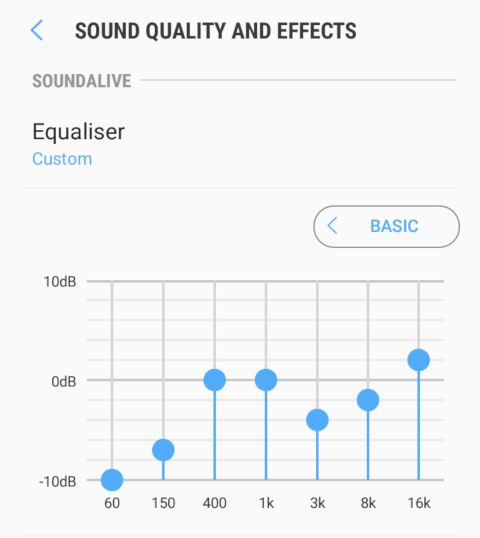 They are not as detail-revealing as critical-listening earbuds, but I find them well-tuned for enjoying music in a high-noise environment, e.g., for landscaping or running routers or saws.
With iPhones/iPads, the situation is more complicated. There is no equalizer that affects the sound in all apps, and there is no granular EQ in the stock music app either.
In the music app, the best preset was "Bass Reducer," which helped somewhat, but not enough for me to enjoy my tunes.
Foobar2000 to the rescue
But then I looked at the iOS version of Foobar2000, a very capable, free (and ads-free) music player, which I have been using on a PC for years.
Foobar2000 for Windows has a versatile EQ, and as it turns out, the mobile app (on both iOS and Android) has the same EQ.
In my opinion, it is better than anything provided in the stock app.
So I went to work…
Listening to a variety of different music styles, I adjusted the sliders so that (to me) it sounded like it should:
I was able to EQ the XTRA 2.0 to sound really good, with adequate bass, mids, and treble.
Here are the settings, in case you'd like to tweak the sound as well:
Note: In the range from 55 Hz to 110 Hz, I needed to reduce the level by up to 16 dB (!) to make them sound balanced in my ears. Wow.

The EQ in Foobar is under Settings (cog wheel)->DSP Manager.
When you move the sliders to the left, they display the reduction in dB (can't be shown in a screenshot). Just follow the table above, starting from 55 Hz, and you end up with my favorite settings:
When I use foobar with other headphones, I just turn off the EQ.
The app remembers your settings, so by switching the EQ back on, you get back to your ISOtunes settings.
I ended up installing Foobar2000 on both iOS and Android and used the same EQ settings on all platforms.
Foobar can scan the stock app's music library, and, even better, it additionally has its own music folder.
Using a Windows PC connected to the same network, you can directly access this folder and upload music to your phone, without going through iTunes.
As usual, the music gets automatically categorized by album, artist, genre, etc.
Notes and Limitations
As mentioned, unlike many Android phones, iPhones/iPads have no EQ that affects all apps:
if, for example, you watch YouTube videos on iOS or listen to Audible books, you have to do with the standard sound.
With audio books and podcasts, I find the sound OK. At times, the narrator's voice sounds a bit rich, but I can live with that.
With YouTube music videos, I would not use these earphones on iOS. There is just too much bass. So for me these can't be all-purpose headphones.
Call quality
I made calls with the XTRA 2.0 in various environments and compared the quality to that of two of my favorite Bluetooth hearing protection earmuffs (review), the 3M Worktunes Connect+AM/FM and the Honeywell Sync Wireless.
The ISOtunes worked well in a quiet room and in a moderately noisy coffee shop (60 dBA). Against a lawnmower running at a distance (68 dBA), some noise was picked up, but I could still be understood well.
In moderate noise situations, the mic was clearer and somewhat louder than that of the Worktunes Connect+AM/FM.
However, just like with the Worktunes, communication with these earphones was not possible in high noise environments (mower@95dbA, metal saw@98dBA).
While the mic did reject most of the noise, it also cut out most of the speech.
In contrast to this, I was able to communicate well using the Sync Wireless muffs in all tested environments.
Their noise-rejecting boom microphone can clearly separate speech from machine noise (and reduce only the machine noise), even at a level of 100 dBA. (The mic is in a different league.)
To put that in perspective: very few hearing protectors that don't cost an arm and a leg can do that.
Battery and charging
Continuously playing music at 60% volume, it takes 11 hours and 40 minutes until a female voice starts reminding me: Battery is low, Please Charge.
So my XTRA 2.0 exceed the specs of 11 hours.
The charging time with my phone charger (5V, 1A) is 2 hours. The earphones have a micro USB port (not USB-C) and come with a charging cable.
No charger is included, which is fine with me. I have too many already.
Bluetooth connection and pairing
The XTRA 2.0 support Bluetooth 5.0 and two active connections at the same time.
So you can, for example, listen to music on your iPad and seamlessly take an incoming call from your phone.
I found the Bluetooth connection very stable, even with two active connections. It just worked, so there is not much to report.
Moreover, I had no issues taking calls and listening to music in one room with both my phone and iPad in a second room about 30 feet (and two walls) away.
Bluetooth pairing
Connecting to your first device
When you turn on the earphones for the first time, they automatically go into pairing mode.
Voice assistant: Bluetooth pairing mode
To connect, just tap the entry "ISOtunes XTRA 2.0" in your phone's Bluetooth list.
Voice assistant response: Bluetooth connected
That's it.
Connecting to a second device
Now let's say you want to connect to a second device:
On the earphones, long-press the multi-function button (center) until you hear: Bluetooth Pairing Mode.
Important: Keep pressing when you hear "Power Off."
Now go to your second device and tap the entry "ISOtunes XTRA 2.0."
Voice assistant response: Bluetooth connected
As a final step, go back to the first device and reconnect by tapping the ISOtunes entry once more.
Voice assistant response: Bluetooth connected
You are now connected to two devices.
The next time you power-off/power-on your ISOtunes, they attempt to re-connect to both previously active devices.
Replacing a connected Bluetooth device
At any time (even when you already have two active connection), you can connect to a new Bluetooth device, by long-pressing the center button again to enter pairing mode. (All connected devices get disconnected.)
Resetting Bluetooth
With your XTRA 2.0 powered on, reset Bluetooth by simultaneously long-pressing pressing Volume+ and Volume– until you hear a "phone busy tone."
The earphones disconnect from all connected devices, delete the internal list of previously paired devices, and enter pairing mode.
Notes:
After a reset, to re-connect to a previously paired iPhone/iPad, you have to delete the ISOtunes entry from the device's Bluetooth list.
On an Android phone, a previously stored entry can usually be reused.
Conclusion
Overall, the ISOtunes XTRA 2.0 are good work earplug headphones: they are well-built, have great Bluetooth stability and battery life, and thanks to multiple sizes of foam ear tips should reduce noise effectively for most wearers.
Using an equalizer, I can get rid of excessive bass and tweak these earphones, and then they sound good.
However, if I want balanced sound on iOS, this limits me to music apps that have a good EQ (plus podcasts and audio books).
(Many Android phones have a built-in system-wide equalizer, which makes things a bit easier.)
I understand that there are "bass heads" that like it really cranked up, but I'd prefer if this was not the default mode.
The occlusion effect and hence bass boost varies with the ear canal length and shape of the wearer.
It would be great to see these headphones equipped with an internal equalizer that allows folks to adjust the sound and in particular the bass (which is most susceptible to the fit).
That way, they could be adjustable for all ears and work well with all apps.
Two ideas I would like to see implemented:
A dedicated button to rotate through three or four presets would be great. (For example, the Worktunes Connect+AM/FM muffs have a button with EQ presets.)
An app could also work and allow for more granular adjustments. Design it so it can go down to -20 dB! Perhaps the EQ button presets could be changed using the app.