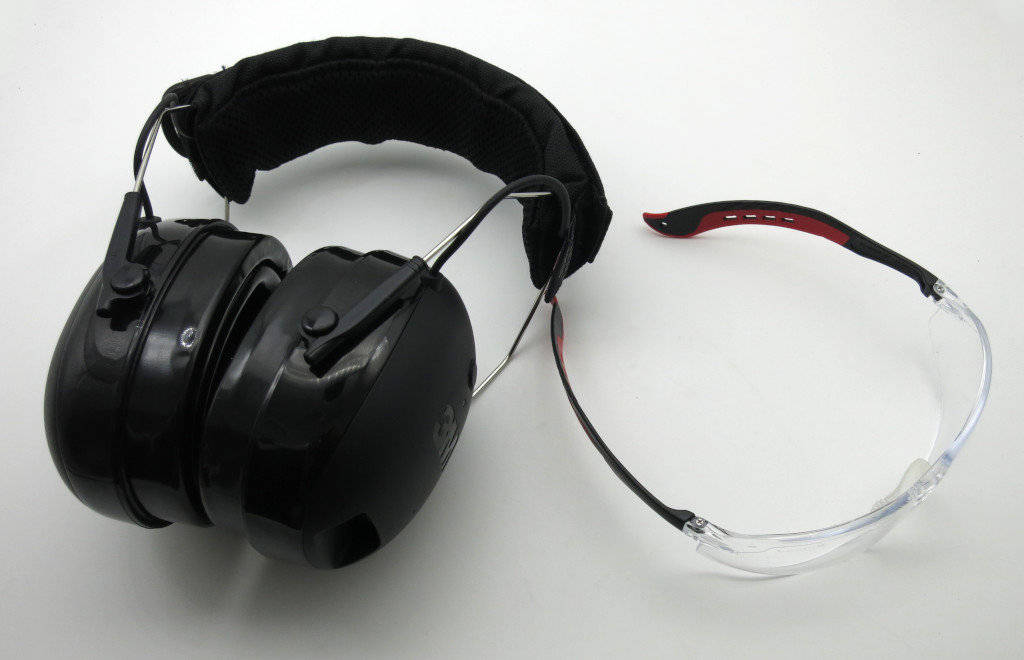 Do you have a hard time wearing your earmuffs or headsets for longer periods of time?
Perhaps the ear pads are pinching your ears, your glasses are digging into your temples, and the headband is a vise. You find yourself readjusting your muffs to alleviate pressure points all the time.
In this article, I am sharing tips and tools I have found useful to make ear defenders and communication headsets more comfortable.
Use a headband cover to keep the headband from digging into your skull
Many earmuffs have unpadded headbands.
Additionally, some headsets are heavy and have rubbery edges that become uncomfortable after a couple of hours.
I have experienced this quite a bit with the otherwise excellent Worktunes Connect+AM/FM.
With a ball cap, they are fine, but without one, I have to readjust them every hour or so, otherwise they start hurting.
Wrapping a headset cover (I use and like the cover by U.S. Tactical Sewing) around the headband was easy enough and solved the problem. Now I can wear them without them digging into my head.
I have also tried this cover with other earmuffs and headsets, including the Bluetooth-only Worktunes Connect and passive earmuffs from the 3M Peltor Sport series. It works with all of them.
If you find yourself constantly adjusting your earmuffs to alleviate pressure at the top of your head, try a headband cover.
If you are in doubt whether this will work with your earmuffs, also check their Q&A section: for example, the popular Peltor Sport Tactical 300 and 500 headsets also have an "edgy" headband some people find uncomfortable, and this cover reportedly solves the problem.
U.S. Tactical Sewing's cover optionally also comes with an accessory kit, allowing you to mount a lamp or a camera. I don't use this kit, but perhaps you are looking for such an option.
Wear safety glasses with flat temples to prevent pressure points and create a better seal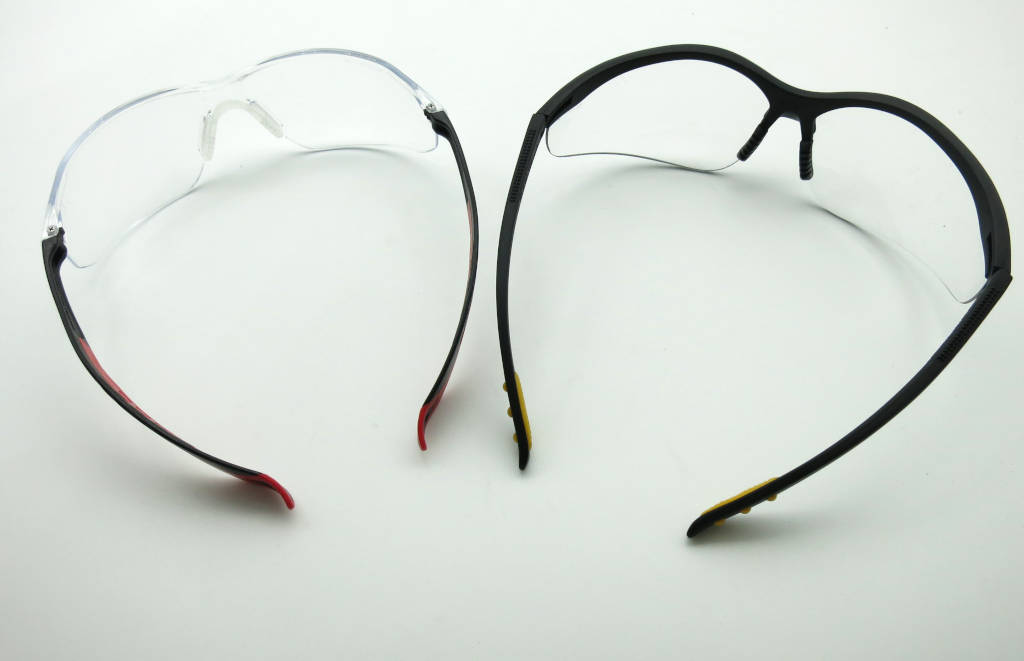 Safety glasses with thick, narrow arms (like the ones to the right in the image) are less than ideal when worn together with earmuffs. The muffs' ear pads press the arms against the temples and after a while they become uncomfortable.
Glasses can also break the seal and reduce the effectiveness of earmuffs and headsets.
In contrast, glasses with flat, wide arms better distribute the headband force and tend to cause less noise leakage.
3M's inexpensive flat temple safety glasses are designed to be comfortable with earmuffs. They work well for me.
Replace your ear pads if they have become hard or are worn out
Being exposed to the elements, sweat, and constant pressure, ear cushions tend to harden and wear out over time. Both wearing comfort and seal suffer then.
For many earmuffs and headsets, replacement ear cushions and foam linings are available (aka hygiene sets).
Before you spend serious money on an expensive headset, inquire whether the manufacturer/distributor offers spare parts.
Even with cheaper passive earmuffs, I prefer models where I can replace the ear pads. No need to throw out perfectly good muffs (and add to the global plastic heap) just because a small part—the cushions are worn out.
Substitute gel ear cushions for the stock foam ear pads
Gel ear cushions are softer, have more padding, and conform better to the head than most foam ear pads.
Furthermore, headsets often have their speakers mounted directly underneath the ear pads, limiting the space available for the ears.
If you need more space for your ears, consider gel ear cushions.
Note: in particular the gels for 3M headsets and earmuffs are more spacious than their foam counterparts.
Also, they tend to distribute the headband force better.
Last but not least, gels often work better with glasses.
So if you find that your foam ear cushions are constantly pinching your ears or causing too much pressure, gel cushions might be the answer.
Do gel ear cushions increase the noise reduction rating of earmuffs?
Gels can provide a more consistent seal when you move your head or are wearing glasses, but they don't necessarily increase the noise reduction rating of your earmuffs per se.
In fact, they often somewhat reduce the earmuffs' effectiveness.
For example, for many of their headsets 3M states a 1 dB reduction in NRR even when using approved gel ear cushions instead of the foam ones.
Here are the notes for the Tactical Pro headset re gel cushions and NRR:
The thing is though that the NRR isn't determined while wearing glasses.
In one study, in which gel vs foam with glasses was compared using the same subjects, when glasses were worn, the tested gel ear cushions reduced noise more effectively (pp 5).
There are also quite a few third-party ear cushions available on the market. The distributor often states that they fit a particular earmuffs model, but that doesn't always mean they are as effective as the stock cushions at reducing noise.
With respect to gels, I'd like to distinguish between two different use cases
For safety earmuffs, if available, I would go with the gel ear cushions offered by the headset/earmuff manufacturer for a particular model to achieve optimal hearing protection.
But, if you intend to use your earmuffs to reduce distractions (e.g., while studying or in an office) or everyday noise, third-party gels are often a very comfortable and economical alternative.
Some gel cushions I have tried
3M GEL-HYG ear cushion hygiene kit
I have used the GEL-HYG cushions primarily with 3M Worktunes Connect, but also tried them with the Peltor Sport Bull's Eye and SG II.
(The foam ear pads shown to the right in the image are from the Bull's Eye muffs.)
In terms of both comfort and noise reduction the GEL-HYG perform well with the muffs I have tried them.
They are deeper than the HY80 and Prohear GEP01 described below, which is helpful with headsets like the Worktunes Connect where the speakers limit the space available for the ears.
They are, however, not quite as soft as the HY80 or GEP01.
3M states they are compatible with the following headsets and earmuffs:
Headsets: 3M WorkTunes Connect (90543, 90544), Peltor Sport Tactical 300 and Sport Tactical 500
(but not compatible with the Worktunes Connect+AM/FM)
Passive earmuffs: Peltor Sport Ultimate, Bull's Eye, SG II, 3M Pro-Grade
If you are looking for gels for one of these earmuffs (in a hearing protection context), I recommend the GEL-HYG.
3M Peltor Camelback HY80 gel sealing rings
The Camelback HY80 are a bit softer than the GEL-HYG.
They are designed for some of 3M's high end headsets (e.g., Peltor Tactical Pro and Peltor WS Tactical Sport) and that's where I would use them.
Note: You obviously have to decide for yourself, but with these expensive high-end headsets I would go with what the manufacturer prescribes.
I have also tried the HY80 gels with the Worktunes Connect and the Peltor X5A and X4A.
They snap right in (so they work), but presumably because the ring (spacer) design is different they don't reduce noise as well as the stock ear pads with the X5A & X4A earmuffs.
But they are very comfortable, so they are a good (albeit expensive) option to make comfy study earmuffs.
Prohear GEP01 (third-party gels for Peltor Headsets)
In terms of comfort, the GEP01 ear cushions are similar to the HY80.
Both are a bit softer and shallower than the GEL-HYG.
I have tried the GEP01 with the Worktunes Connect. They were comfortable and subjectively reduced noise well, but the GEL-HYG gels were a bit more effective and roomier, so for hearing protection I would stick with the GEL-HYG.
I like the GEP01 gel cushions as comfortable alternative for study earmuffs and everyday noise reduction.
Prohear GEP02 (third-party gels for Howard Leight Impact Sport, Pro, Sync, Leightning)
For many of their muffs and headsets, Howard Leight uses the same snap-in ear pad type. These ear pads are not compatible with 3M muffs.
I have so far tried the GEP02 gels with the Howard Leight Leightning L3.
They were significantly more comfortable than the stock ear pads (shown to the right in the image above).
Subjectively, I would say they reduce noise quite well, but with the Leightning L3, the stock ear pads were noticeably more effective.
Like with the GEP01, I would have no hesitation using the GEP02 for study earmuffs.
Notes third-party ear cushions and gel cushions designed for different earmuffs
The spacer (ring that snaps into the ear cups) plays a role when it comes to noise reduction and third party cushions don't always use the same spacer you get with the originals.
The same applies when using ear cushions by the same manufacturer but designed for a different model. They may snap into the ear cups but perhaps be not as effective.
This is not to imply that third-party cushions are no good. They might still improve noise reduction, for example, when wearing glasses. Just be mindful that they actually do reduce noise effectively.
Slide on the ear cups from behind your ears and then adjust the headband, including cup tilt
Some earmuffs have comparatively small ear cup openings. This includes the Peltor X5A and X4A, which are outstanding at reducing noise, but have a ring (spacer) with a smaller inner diameter.
If you find your ears too crammed in or the ear pads are sitting mostly on your ears, extend the headband and then slide on the ear cups over your ears from behind. (For me, this also works quite well with some standard headphones that have smaller ear cushion openings.)
With many headbands you can additionally tilt the ear cups for a better fit.
Place your glasses' temples on top of the ear cushions if you don't need a secure fit for safety reasons
If you wear glasses and want to use earmuffs to reduce everyday noise as opposed to as work ear defenders (where a secure fit of your glasses is necessary), place the glasses' temple arms on top of the ear cushions instead of inside.
I do this most of the time with reading glasses and with virtually all earmuffs and over-ear headphones when I don't require a secure fit. That way I don't have to put up with any pressure points and get the best noise reduction and sound quality.
Stretch out the headband over a stack of books or a box
Hearing protection earmuffs need to exert a certain clamping force to ensure a secure fit and consistent seal whether you are still or moving your head. They also have to be stay put when you are exposed to vibrations by machinery or jack hammers.
So keep this in mind before attempting to stretch out your headband.
By comparison, normal over-ear headphones are not designed as a hearing protector and hence can get away with a lower headband force.
However, if you are using earmuffs because you are sensitive to everyday noise or to shield yourself from distractions while studying/working in an office, you likely won't be quickly moving your head or be exposed to vibrations. Stretching out the headband can give you additional wearing comfort.
Get earmuffs with a more extendable headband and larger ear cup openings
If you have a large head, some earmuffs that are perfectly comfortable for other people may not be extendable enough for you.
Likewise, if you have large ears, some earmuffs are not ideal because their ear cushion ring (spacer) has a comparatively small inner diameter.
We are all different, and one size doesn't fit all.
In the article 7 Great Earmuffs for Large Heads and 5 That Are Too Small I review earmuffs for people with large heads or/and large ears.
Conclusion
Hearing protection earmuffs and headsets prioritize consistent seal and noise reduction. You certainly wouldn't want the vibrations of a jack hammer compromising your seal.
It's a tall order to make these muffs as comfortable as ear-pillow-like Bose headphones.
That being said, the tips in this article, such as putting on a headband cover, using gel ear cushions, wearing flat temple safety glasses, placing reading glasses' temples outside the cushions, and optimizing the wearing technique, have allowed me to wear many different types of earmuffs and headsets for hours without feeling the urge to take them off or constantly readjusting them.
If you have additional tips for optimizing your muffs, please don't hesitate to post a comment.