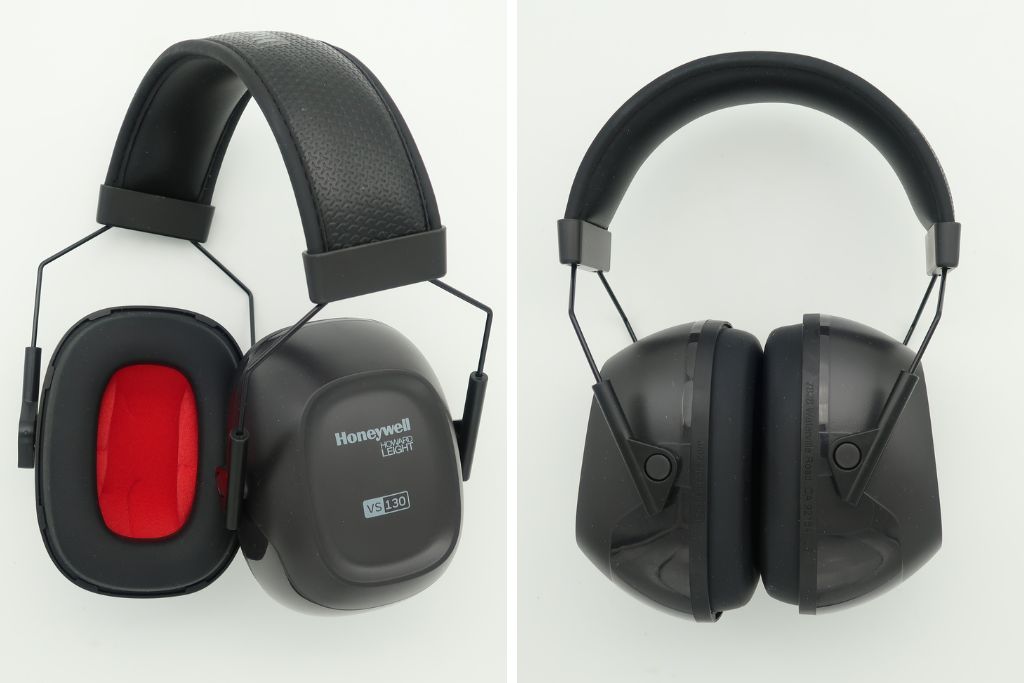 Several readers have asked me how the Howard Leight Verishield VS130 earmuffs compare to their still widely available predecessor, the Leightning L3, so here is my review.
I haven't used the L3 much recently because the headband had deteriorated to the point where I was constantly getting black flakes in my hair.
The L3 are good muffs and I had considered replacing them for a while.
But, they (and many of Honeywell's other muffs) have always been a bit on the small side for me. And with the VS130, I was concerned I might get more of the same size.
Having now used the VS130 for a while, I can report that Honeywell has finally listened:
These are a lot more extendable than the L3 and my Howard Leight headsets (sync series) and fit my slightly above-average head just fine. They are effective and comfortable ear defenders.
My impression summarized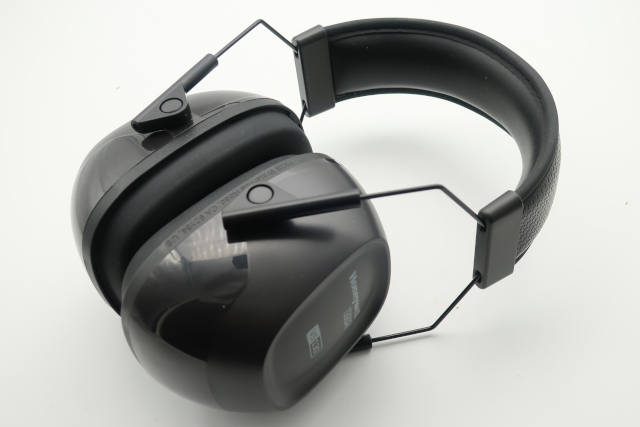 At 282g (10 oz, my scale), the Verishield VS130 are among the lightest NRR-30 hearing protection muffs. Compared to the Leightning L3 (300g, 10.6 oz) and the Peltor Optime 105, the weight difference is negligible though.
The headband padding underneath is very similar to that of the L3 and comfortable.
However, in my experience, this kind of padding is more delicate than the rubberized top of the rugged Peltor Sport and X series, or the plastic cushioning of the Optime series.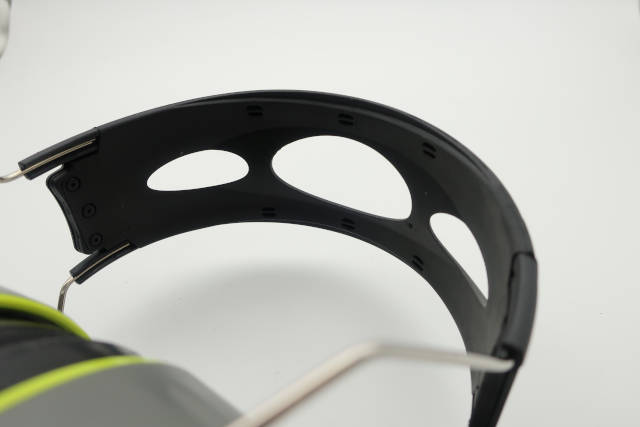 I would not just toss the VS130 in a backpack or tool box. I'd get a cloth bag or something to protect them.
On the plus side, with the VS130 you get more of a headphone-like feel than with many other hearing protectors.
Depending on your requirements, having that padding may be worth replacing them more often than rubber-top muffs.
Note: rubber tops with cut outs are compatible with more ball caps and also offer somewhat better ventilation.

Here is how my L3 headband looks after a few years of moderate use, admittedly often in the heat and exposed to quite a bit of sweat:
Note: Perhaps the VS130 will hold up better; time will tell.

The clamping force of the VS130 is in line with that of other muffs, perhaps a bit less than that of the L3, but these are still designed to provide a reliable seal and protect hearing, not to hug your ears like Bose headphones.
The VS130 are about 1 cm more extendable than most other Howard Leight muffs I own, and that makes a big difference for me.
Note: I think the headband should fit most people. However, if you have a very large head, there are still more extendable options.
The ear pad opening and outer cup size of the VS130 and the L3 are quite similar.
The interior is different though:
The L3 muffs contain a block of black foam that starts about 8mm below the ear pads. The inner depth (including the ear pads) is a bit more than 2 cm.
In contrast, the red foam lining of the VS130 provides an inner ear cup depth of 3.5 cm in the center, again including the ear pads.
In normal use, both ear cups work well, but I can more easily wear small true wireless earbuds like the Space A40 underneath the VS130.
Note: I am not suggesting you should wear earbuds underneath when using these as hearing protectors, but some readers use ear defenders for studying and help against everyday noise.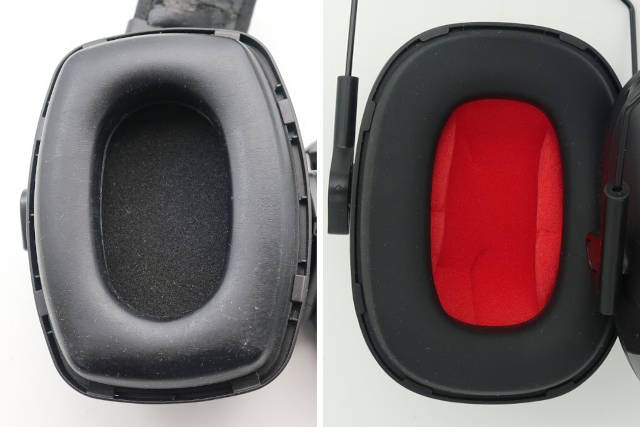 The VS130 are almost (but not quite) as good at reducing low frequency noise as the L3 (which were very good in that regard) and they are somewhat better at reducing the mid frequencies. Both are very effective ear defenders (NRR 30).
However, because the VS130 fit me better, the seal is more consistent when I turn my head.
Overall, I like the Honeywell VS130 for their low weight, wearing comfort and still good low frequency noise reduction.
Note: Well-inserted earplugs can be substantially more effective at reducing low frequency noise, so this is compared to other earmuffs.
Noise Reduction
| Earmuffs [mean attenuation in dB, (SD)] | NRR | 125 Hz | 250 Hz | 500 Hz | 1000 Hz | 2000 Hz | 3150 Hz | 4000 Hz | 6300 Hz | 8000 Hz |
| --- | --- | --- | --- | --- | --- | --- | --- | --- | --- | --- |
| Honeywell Howard Leight Verishield VS130 | 30 | 21.5 (3.2) | 26.1 (2.2) | 35.5 (2.1) | 43.2 (2.3) | 40.6 (2.1) | 41.8 (2.8) | 38.6 (2.7) | 37.9 (2.1) | 36.1 (2.8) |
| Honeywell Howard Leight Leightning L3 | 30 | 23.8 (2.2) | 28.8 (2.3) | 36.5 (2.4) | 39.9 (1.9) | 35.3 (2.3) | 38.7 (2.8) | 39.0 (2.1) | 41.0 (2.4) | 40.8 (2.3) |
Noise reduction ratings and attenuation data as per earmuff packaging and inserts (distribution in the U.S). (ANSI S.3.19-1974).
Noise reduction own impressions
The Leightning L3 made it on the list of my favorite noise reduction earmuffs because they are very effective at reducing low frequency and lower mid frequency noise at a moderate weight (for NRR-30 muffs).
The VS130 are good at reducing low frequency noise as well, but in that range, the L3 are still somewhat more effective, as long as I am still.
(My experience is consistent with the attenuation data above for 125, 250, and 500 Hz. If anything, the subjective difference in favor of the L3 is even a bit larger.)
On the other hand, the VSS130 are better at muffling mid- and lower treble frequency noise.
(Also consistent with the attenuation data for 1000 to 3150 Hz.)
The VS130 seal my ears more consistently when I move my head from side to side. This is because the VS130 headband is far more extendable.
With the L3, the seal at times breaks and noise seeps in. For me they have to be extended to the max and then they just fit.
Overall I prefer the VS130 for their better noise reduction consistency.
If, however, you have a small head, you may likely get a comparable seal with the L3.
More details for folks who are looking to use these muffs for annoyance reduction and noise sensitivities in everyday life
Important: for hearing protection be sure to check the attenuation data that comes with your muffs.

Own test
Low and lower mid frequency noise:
From 40 up to 100 Hz (not tested by manufacturers and not used to determine the NRR), both muffs performed the same (both do very well in that range for muffs), but from 125 to 400 Hz, the L3 were somewhat more effective than the VS130.
If anything, the test was slightly unfair to the L3. Mine are several years old, so the headband could have weakened and the ear pads could have deteriorated.
But note, with respect to low frequency noise reduction, well-fitted foam earplugs outperform even the L3 (and all other passive muffs) by quite a bit.
Against mid and lower-treble noise from 500 to 3150 Hz, the VS130 performed somewhat better than the L3. "They muffle speech a bit better." Against high frequency noise (4K to 8K) both muffs did about the same for me.
Conclusion
Compared to the Leightning L3, I prefer the Verishield VS130: I am getting a more extendable headband (1 cm difference, which is a lot) and somewhat more room for the ears. Also, they are matte and overall more stylish, almost like big headphones.
That said, if you have a small head, the Leightning L3 are still very competitive low-frequency muffs, in particular if you can get them for less money.
In the context of study muffs rather than hearing protection, the VS130 have another advantage: small true wireless earbuds (e.g., Space A40) fit better underneath.
The VS130 will be included in my list of favorite study earmuffs as an NRR-30 alternative.
Some words about the NRR-30+ competition
If you have large ears and/or a very large head, the Peltor Sport Ultimate (also NRR 30) still offer roomier ear cups and an even more extendable headband than the VS130.
Both the Peltor X and Sport series are more rugged, in my experience well-resistant to sweat, and thanks to the headband cut outs compatible with more ball caps.
On the other hand, the VS130 are significantly lighter than the Peltor X5A (the only NRR-31 muffs I own) and the Sport Ultimate and you are getting a padded headband.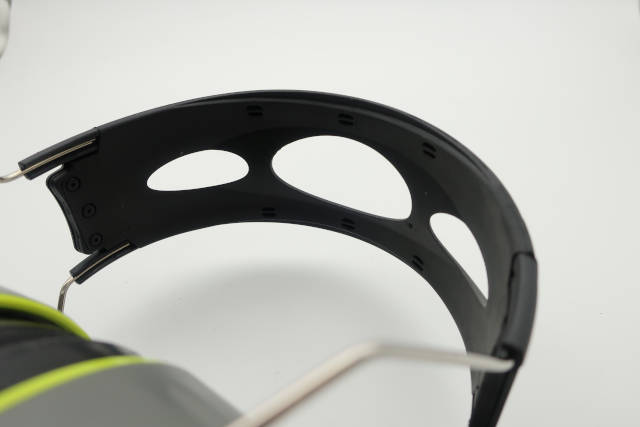 Have a great day.