The Etymotic Research ER2XR earphones are excellent at reducing noise, and they can drive a good beat.
I am getting 30+ decibels noise reduction with these virtually across the whole tested frequency range.
A while ago, I tested the Etymotic MK5 Isolator, neutral sounding budget earphones with great noise isolation.
I like the MK5 but am often longing for a tad more bass and a bit more body in male vocals.
The ER2XR are different: they have a punchy, well-extended bass, and they still offer a very balanced sound.
Now, don't get me wrong: these earphones don't come across as "bass-boosted."
It's more that they have the low end to be fun listening to with all music genres, including electronic dance music.
On top of that, like the MK5, the ER2XR reduce noise so well that you can listen in a busy coffee shop at a very moderate volume and still hear everything your music has to offer.
In the spirit of this site, in this review I am going deep on the noise isolation performance of the ER2XR with all accompanying ear tips: foam, triple-flange silicone (the Christmas-tree type), and the new double-flange silicone tips.
I am also comparing the noise isolation to that of my favorite active noise cancelling earbuds.
Note: In case you want to take a look, here is the test and review of the Etymotic MK5 Isolator.
Noise Isolation
To get a detailed picture of the noise reduction potential of the ER2XR with its various ear tip options, I used pulsed narrow-band noises at increasing frequencies (1/3rd octave steps) and compared my hearing threshold for each frequency band with open ears versus plugged ears (see table and graph below for detailed results).
Here is my result in a nutshell:
With foam ear tips, the ER2XR are excellent at reducing noise. They achieve 30+ decibels virtually across the whole tested frequency range (40 – 8000 Hz).
With triple-flange tips they are still very good, only exhibiting a slight dip in the higher-low and lower-mid frequency range.
With deeply inserted tips (foam and triple-flange), the ER2XR are as good against low frequency noise (e.g, truck rumble, bass) as very good active noise cancelling earbuds, and they are significantly better against mid and high frequency noise (e.g., barking dogs, chatter, honking, birds).
Personally, I find it easier to get a reliable and consistent seal with the foam tips than with the triple-flange. Also, for me the foam tips are more comfortable, so this is how I mostly use these earphones.
If you are more of a fan of the Christmas-tree type silicone tips, they too isolate very well.
With double-flange ear tips, the earphones still reduced low frequency noise well for me, but offered only moderate reduction of mid- and high frequency noise.
However, this can actually be an advantage in situations where you need to block low-frequency noise, but want to keep some awareness of your environment (e.g., crossing busier roads, talking to people).
I quite like the double-flange tips and find them a lot more comfy than the triple-flange.
Noise reduction test results (arithmetic averages)
Noise reduction graph
How does the noise isolation of the ER2XR compare to that of current active noise cancelling earbuds?
My current reference active noise cancelling earbuds are the 1More Dual Driver ANC Pro (review). I have added my test results for these earbuds in the graph below.
Note: You can also find averages in decibels for the 1More earbuds in the noise reduction table (above).
As you can see, against low frequency noise <= 125 Hz, the 1More ANC Pro (green line) perform in the same ballpark as the ER2XR (foam or triple-flange); the active noise cancelling function of the 1More is very good, but still they don't outperform these noise isolation earphones.
Against mid- and high-frequency noise, the ER2XR are a lot more effective. It isn't even close.
So if you want earphones to isolate yourself from the noise around you as much as possible, the ER2XR in-ears can get you a lot further than the ANC earbuds.
Moreover, you need no battery, and there is no self-noise as you often get with active noise cancelling earbuds.
But there is a price to pay for this noise isolation:
These Etymotic in-ears go deep into the ear canal. Passively noise isolating earphones that aren't inserted as deep don't achieve this kind of noise reduction feat.
Also, they are much more of a hassle if you frequently need to insert/remove them than the 1More ANC earbuds (and other ANC earbuds for that matter).
With active noise cancelling earbuds, you can get excellent low frequency noise reduction and decent overall noise reduction with an earbud that merely sits at the entrance of your ear canal, exerting virtually no pressure. Moreover, most ANC earbuds can be switched to some kind of transparency mode when you need to communicate.
For detailed information how these in-ears compare to over-ear ANC headphones, I have a comparison test in the post Active Noise Cancelling vs Noise Isolating Headphones.
Sound quality
I have listened to the ER2XR with a variety of different genres, including classical music, jazz, pop-jazz, pop, rock, electronic dance music, and techno.
I like their balanced sound profile with almost all music I tried them. The ER2XR are very versatile earphones, but in particular the vocals sound great.
And, the bass of these is punchy and well extended. Etymotic calls this tuning Extended Response (XR).
I would say this is the right amount of bass.
Coming from some more treble-emphasizing earphones, I initially missed a bit of sparkle in the treble.
But after using them for a while I now feel different:
"It is like binging on Doritos and then trying natural food."
These sound very good; it just takes a bit to get used to a more accurate sound when switching from "excitingly-tuned" headphones.
The excellent noise isolation adds a lot to this: Delicate segments in the music don't get masked by environmental noise, even at a low volume.
In contrast to this, with most critical listening headphones, you have to retreat to a quiet room to hear that level of detail.
In a word, the ER2XR are a fine pair of in-ear headphones.
Ear tips
The ER2XR came with one size of foam, two different sizes of triple-flange, and four different sizes of double-flange ear tips.
The double-flange ear tips are a new addition that wasn't available with earlier Etymotic models.
I like foam and I like the new double-flange tips. In my ears both are a more comfy than the triple-flange tips you most commonly see on photos.
In addition, Etymotic offers additional sizes of foam tips (small, x-large) for purchase.
So chances are you can find ear tips that fit you.
Finally, they also work with Comply foam ear tips. I have tried them with the longer Professional P-series (100 core size).
Build quality, cable, and connectors
The ERX2R body is all aluminum and feels well made.
I also ran a driver-match test and could not detect any sensitivity difference between the left and right earbud.
The 4 ft. (1.2 m) cable is detachable and replaceable. It is flexible and for me it has just the right thickness.
The cable connects to the earphones via a modified MMCX connector (it has an additional key that keeps the orientation locked) and to your device with a standard 3.5 mm headphones plug.
When I bought the ER2XR, the limited edition was on sale and cheaper than the standard package. It came with an extra Lightning-to-3.5mm adapter for iPhones and iPads, so I got that one.
The ER2XR standard package contains the same earphones but no adapter. A Lightning adapter can easily be purchased though.
I lead the cable over my ears. This works best for me and allows me to eliminate cable noise.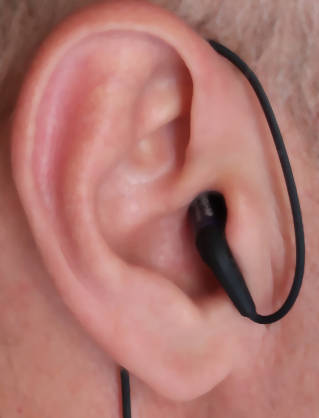 Size comparison with triple-flange silicone earplugs
Who the Etymotic ER2XR are for and who not
The ER2XR earphones are a well-tuned and well-priced quality product.
Because of the very slender body and straight nozzle design, these earphones can be (and for best performance should be) inserted deep into the ear canal.
Etymotic's earphones appear to be designed with maximum noise isolation in mind, and they do deliver: when well-fitted, they can be significantly more effective at reducing noise than current active noise cancelling earbuds.
For me, they work well with almost all music genres as well as podcasts, white noise and nature sounds.
"The ER2XR are very effective earplugs that also sound very pleasant and balanced."
I think they are a good choice for students, office workers, and audiophiles alike. Alternatively, use them for commuting or at the gym.
At the time of this writing, the ER2XR are available in a standard package and a limited edition (same earphones plus additional Lightning-to-3.5 mm adapter).
A couple of things to consider:
If you don't like earplugs, you probably won't like these earphones either.
These are not ideal if you need to take them out and re-insert them frequently to communicate.
There is no seamless switching between noise isolating and awareness mode (like you would get with many active noise cancelling earbuds): either you use high noise reducing ear tips (foam or triple-flange) or the more moderately isolating double-flange ear tips. For easy-listening while walking around town or communicating, I prefer ANC earbuds.
I find the foam tips comfortable and very effective. I like them a lot. But if I use the earphones daily, I have to replace the tips every few weeks. Over time, this adds up.
In contrast, the triple-flange tips last a long time and are also very effective at reducing noise. I believe most people use Etymotic with these tips. If you like Christmas-tree type earplugs, the ER2XR can be very economical earphones.
For more moderate noise reduction, the double-flange tips are a comfy, durable alternative.
These noise isolating earphones are not marketed as work earplug headphones, so they have no noise reduction rating.