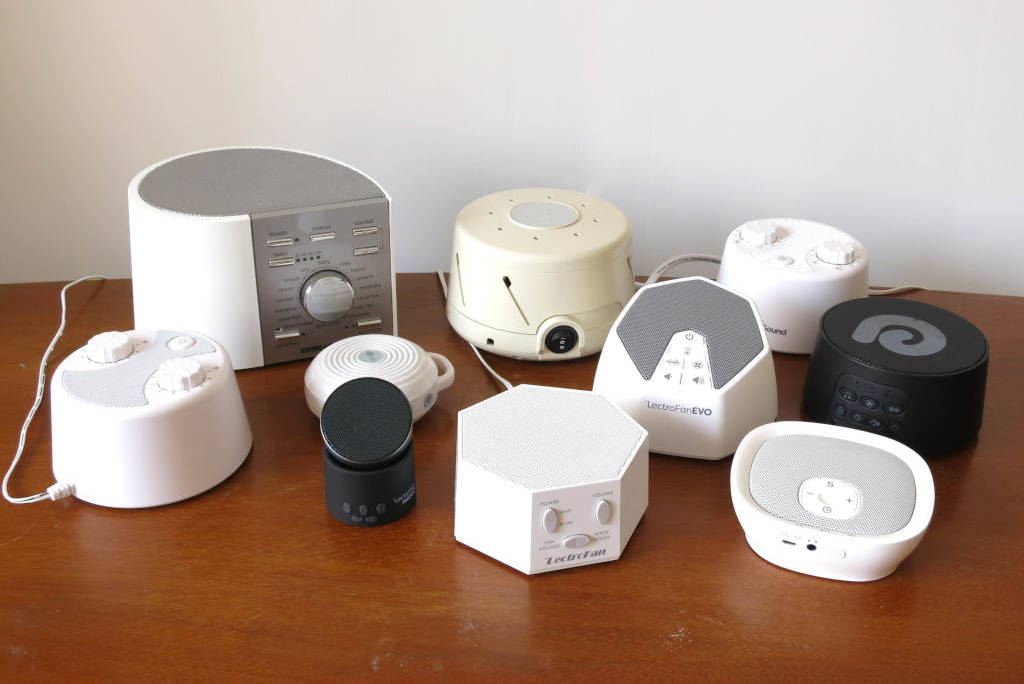 This review is based on in-depth tests of (so far) 10 white noise machines, all acquired at standard retailers.
The 10 candidates were shortlisted over time from a much larger selection of machines (through experience, reading, and listening to samples).
I have used each of them until I was confident I had figured out most of the strengths and weaknesses and formed an opinion. This means that this best-of-list was put together over months!
I have also put the more promising machines through various measurements (checked for loops and breaks in the sounds, frequency analysis, sound level, etc.).
For each machine, I have included sound samples so that you can compare with your own ears. I recommend you use headphones or earbuds to listen.
I have also included links to detailed reviews, if you want go deeper or listen to more sounds.
Summary
Best white noise machine overall: Lectrofan Classic
Pro: Best sounding white noises and most effective noise blocker in a compact machine. Good for sleep, office and travel.
Con: No nature sounds
Best white noise machine for nature sounds: Sound+Sleep SE
Pro: Large selection of beautiful, non-looping nature sounds (which is rare)
Con: Too large for travel and only AC power
Best fan-based white noise machine: Yogasleep (Marpac) Dohm Classic
Pro: Soothing fan sound without blowing air
Con: Only blocks moderate noises and not for international travel (one voltage AC)
Best ultra-portable white noise machine (min. size and weight): Lectrofan Micro2
Pro: Good, non-repeating white noises and fan sounds at 3.4 oz. (97 g)
Con: Small size limits max volume and noise blocking effectiveness
Best budget white noise machine with nature sounds and lullabies: Sleepbox Portable Sound Machine
Pro: Decent sounds and nice lullaby in a portable, battery-powered machine
Con: Sounds are repeating and some sounds lack variety
How to choose your white noise machine?
The most important thing to decide is whether you want:
A machine that focuses on white noises (e.g., brown, pink and white noises) and fan sounds,
a mechanical fan-based machine,
a machine that also offers nature sounds.
White noise machines that focus on white noises and fan sounds
Electronic white noise machines with a good selection of white noises and a good volume and frequency range are very effective at blocking environmental noises such as barking, speech, traffic noise, crickets, etc.
If you don't need nature sounds, I recommend you get a machine that dynamically generates white noises and fans using electronics rather than playing a recording.
The advantage is that you won't hear patterns or breaks in these non-repeating sounds as you could with short sound recordings on repeat.
This review points out which machines fit the bill.
You might think, "I want white noises, but I am getting one that also offers nature sounds, just in case."
The problem is that in virtually all budget machines that offer nature sounds and white noises, the white noises are recorded and generally worse than in dedicated white noise machines.
So if you only need white noises and fan sounds, you can get a better product for your money by buying a machine that specializes in these sounds.
Machines with a real fan
Fan-based machines contain a motor and a real fan inside their housing, but are designed to prevent airflow and the stirring up of dust.
These machines are attractive if you want the soothing sound of a real fan to help you relax and fall asleep, but don't want that fan to cool down your room.
Because these machines aren't as adjustable for volume and frequency range as electronic white noise machines, they don't block nearly as much environmental noise.
Machines with nature sounds
These include sounds like rainfall, ocean surf, brook, fire place, waterfall, train ride, and so on.
Current budget nature sound machines (at least the ones I have come across) are similar to MP3 players that play sound samples on repeat.
When you choose the sound "ocean waves," the machine plays the pre-recorded track "ocean waves" from its memory card. At the end of the track, the machine loops, i.e., restarts the track.
Typically these machines also have their white noises and fan sounds as pre-recorded sounds.
The quality of such a machine depends on the track length and how seamless the looping works.
If the track is short, it lacks variety, and if the looping isn't done well, you'll notice a break in the sound or a strange underlying pattern.
Some people are sensitive to any kinds of patterns while others don't seem to mind.
There are a few nature sound machines that go beyond looping sound players and create rich changing nature sounds.
Adaptive Sound Technology's Sound+Sleep series, for example, dynamically puts together nature sound stories from different sound elements.
These machines cost more money but they may also keep you content for longer.
#1 Lectrofan Classic
The Lectrofan Classic is my favorite white noise machine. I have used it for several years, and it just works and helps me sleep.
It looks and sounds good, blocks a lot of noise, is very easy to operate, and it travels well.
It dynamically creates its 10 white noises and 10 fan-sounds using a synthesizer, so the sounds don't repeat.
The white noises range from dark brown over pink to pure white and are very well equalized to sound good and encompass a large frequency range (important for blocking noise).
The volume can be set from barely noticeable to very loud [max 85 dB (1m), depending on the white noise selection].
Its great frequency and volume range make the Lectrofan Classic very effective at blocking noise such as barking dogs, traffic noise, speech, etc.
Thanks to its three distinct rockers, the Lectrofan is easy to operate without having to resort to any light. The machine has a sleep timer and it remembers volume and last used white noise and fan setting.
It is also a great travel white noise machine:
It is compact, weighs 13 oz. (370 g), and can be powered via the included multi-voltage adapter, USB power, and even a USB battery (not included). When on the road, I often use it together with a small USB power bank originally purchased to charge a phone.
Here are samples of the first six white noises (out of 10) for the Lectrofan Classic:
And here are the Classic's 10 fan sounds (last fan is oscillating):
Limitations
The Lectrofan Classic is strictly a white noise and fan machine. It has no nature sounds (such as rain or brook) and it has no headphone jack.
Please check the review Lectrofan Classic vs EVO if you'd like to learn more about this white noise machine.
#2 Sound+Sleep SE
The Sound+Sleep SE is by far the best standalone nature sound machine I know of.
Unlike with budget machines playing nature sounds, with this one I couldn't find loops or a lack of variety in any of the sounds.
On the contrary, the sounds always start slightly different and additional elements, such as sea gulls or seals as part of ocean sounds, or thunder and wind as part of rainfall, seem to appear at random times.
This is impossible to do with a simple sound player: it appears that the SE is a multi-track sound machine that dynamically mixes sounds together.
The SE has 64 sound stories grouped into 16 categories, including brook, ocean, rainfall, meadow, waterfalls, brown noise, pink noise, white noise, large fans, small fans, meditate, crowds, home, rides, baby, and city.
The sounds in a category are often from the same family, but differ in variety and richness (nature sounds) or in pitch (brown noise, pink noise, white noise).
For example, the category ocean has:
Ocean waves and lapping water
Ocean waves, lapping water and gurgling water
Ocean waves, lapping water, sea gulls and seals
Ocean waves, lapping water, sea gulls, seals and foghorns
The operation of the machine is very well thought out: Use the dial to choose one of the 16 sound categories and the selection button to pick one of 4 sounds within a category.
The SE also remembers your choice for each category.
It has all the whistles and bells, including a sleep timer, a headphone jack, and even an adaptive mode where it automatically adjusts its volume to the environmental noise level.
Here are three of the 64 sounds of the Sound+Sleep SE.
There are too many good sound stories and features to possibly cover them all here.
If you are interested in the SE and want to listen to more sounds, definitely read my review of the Sound+Sleep SE.
Rain with wind and thunder:
Whale party and ocean:
Fireplace:
Limitations:
This sound machine is large and can only be used plugged into AC power, so it is not practical as a travel machine. It does, however, have a multi-voltage AC adapter (100-240v), so you can use it in different countries.
The speaker works better for nature sounds than for white noises.
The SE's 12 white noises and 8 fan sounds are non-repeating and sound quite good (better than on budget machines), but not as good as the white noises on the Lectrofan Classic.
If you don't care for nature sounds, the Lectrofan Classic may be the better choice.
#3 Yogasleep (Marpac) Dohm Classic
The Marpac Dohm Classic creates a very soothing fan sound by rotating real fan blades inside its housing.
It has been produced since 1962 and has a large number of loyal fans thanks to its sound.
The Dohm is very easy to operate: You adjust the sound level by choosing one of two fan speeds. You can also twist the Dohm's middle and top parts to fine tune the volume (49 dB to 63 dB) and the fan pitch.
Unlike a standard fan, the Dohm blows virtually no air, so you don't have to be concerned about getting cold. And, it also doesn't stir up dust, which is good news if you are allergic to that.
Here is how the Dohm sounds (on high speed):
Read my review comparing the Lectrofan and the Marpac Dohm if you need more info to decide between the two of them.
Limitations
The Dohm only blocks moderate environmental noise due to its limited volume range and frequency spectrum.
So this machine isn't ideal against loud traffic noise, dogs barking close-by, or similar.
Moreover, it can't be set as quiet as electronic machines. (As a workaround place it further away from your bed.)
The Dohm is quite large, it weighs 1.5 pounds (650 g), and it runs on single voltage AC power, so it is not the ideal travel companion.
The Dohm has no sleep timer.
#4 Lectrofan Micro2
If you need to seriously optimize weight yet still want to soothe yourself or your toddler to sleep, consider this ultra-portable white noise machine.
At 2×2 inches, the Lectrofan Micro2 is tiny and weighs a mere 3.4 ounces (97 g). Even if you travel only with a small day pack, you can still fit it in somehow.
It has a rechargeable battery lasting up to 40 hours and can even double as a Bluetooth speaker (20 h).
And, for its size, the Micro2 sounds really good. It has 4 white noises, 5 fan sounds, and 2 ocean sounds.
Like its larger brother, the Lectrofan Classic, the Micro2 is a real white noise machine, creating non-repeating sounds using a synthesizer.
Tip: If you occasionally want more sounds, such as lullabies and nature sounds, connect the Micro2 to your phone via Bluetooth and use a white noise app (e.g., myNoise, Atmosphere, White Noise).
Here are samples of the 4 white noises:
And here are the Micro2's 5 fan sounds:
Check out my detailed review of the Lectrofan Micro2 for more info on how well it blocks external sounds.
Limitations
Due to its small size, the Mico2 doesn't block nearly as much noise as the Lectrofan Classic. It doesn't get as loud and it covers a much narrower frequency spectrum.
If you need to block a lot of noise and can tolerate a bit more weight and size, the Classic is a more powerful travel white noise machine.
Also, the Micro2 has no sleep timer.
#5 Sleepbox Portable Sound Machine
The Sleepbox has a total of 22 sounds, including several nice water sounds and Brahm's Lullaby—perhaps the most famous cradle song.
I like 10 of the 22 sounds: 2 white noises, 2 fan sounds, 1 rain sound, 1 brook, 3 ocean waves, and the lullaby.
At 4.3×4.3×1.4 inches and 5.4 oz. (152 g) the Sleepbox is very portable and light.
It can be powered via its removable rechargeable battery (about 26 hours) or the included multi-voltage power supply.
It also has a sleep timer and a headphone jack.
All in all, this is a very decent budget machine if you primarily want water sounds or a lullaby.
This machine plays sound sequences on repeat. With most of the sounds this looping is well done, but some of them are too short and lack variety. Moreover in some sounds I hear repeating patterns. Still I find 10 of the sounds pleasant to listen to.
Here are samples of the 9 water sounds (3x rain, 3x brook, 3x ocan waves)
Here are a piano piece and the lullaby:
And here are the 4 white noises:
I have posted an in-depth review of the Sleepbox portable sound machine, if you want to listen to more sound samples.
Limitations
Current budget nature sound machines (the ones I know of) tend to play recordings on repeat. Typically this includes even the fans and white noises.
The Sleepbox does a good job at making the repetitions seamless, but in some sounds a lack of variety and/or repeating patterns are noticeable.
Some people are very sensitive to this and once they have detected a pattern, it annoys them.
Other people, on the other hand, don't mind.
This machine is fine for masking moderate disturbing noises, but it has a limited selection of white noises and fans (recorded).
The white noises are OK, but not the strength of this machine.
If you are looking for an ultra-portable sound machine with fans and white noises (but not nature sounds), the Lectrofan Micro2 has non-repeating, better-sounding white noises.
Conclusion
For many people, including myself, their white noise machine has become a trusted nightly or daily companion.
It pays to choose carefully if you intend to use a tool for several hours a day.
I hope this review allows you to find a sound conditioner that helps you to sleep better at night and concentrate better while you are working.