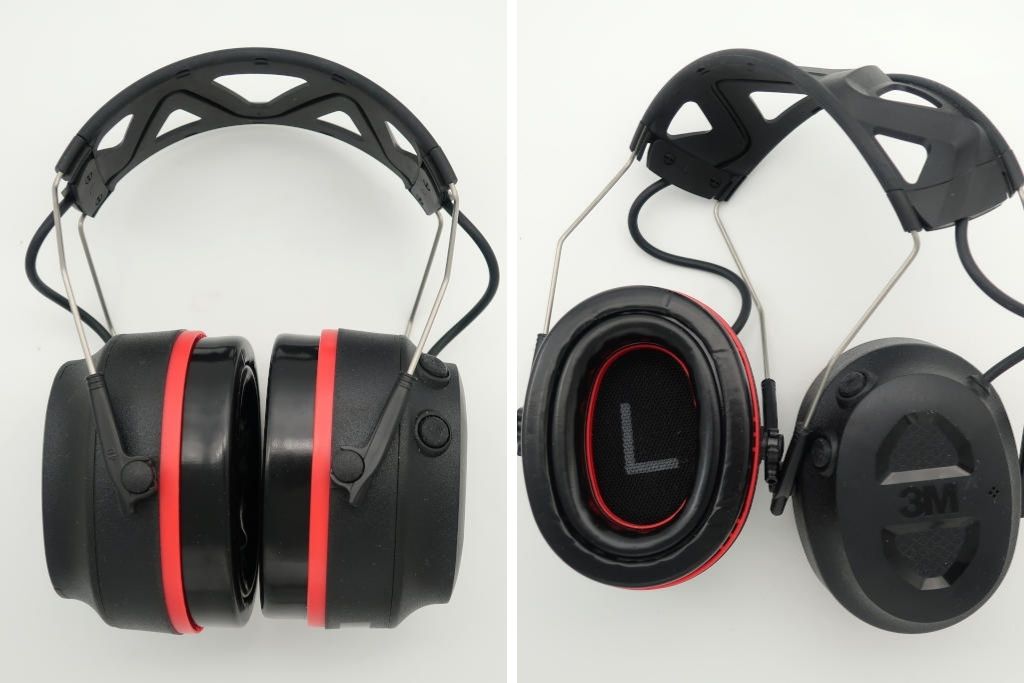 In this post I am reporting on my tests of the 3M Pro-Protect electronic hearing protection earmuffs. I got the version with gel cushions and a noise reduction rating (NRR) of 26 decibels.
The Pro-Protect are level-dependent hearing protection earmuffs:
They passively reduce noise via their ear cups like other earmuffs.
In addition, they use two external microphones to let you hear ambient sounds in a controlled way: the speaker output for these ambient sounds is electronically limited to 82 decibels.
The idea is to protect you against loud noises while at same time giving you better awareness of your environment than you would get with passive earmuffs.
Last but not least, they can also connect to your phone or other device via Bluetooth, allowing you to make phone calls and listen to music or audio books.
Summary
The Pro-Protect reduce noise well and, thanks to their deep gel cushions, they provide ample room for the ears.
I have found the awareness mode to be a real plus in situations where you want to protect yourself from intermittent loud noises but still hear your colleagues and what is going on around you.
For Bluetooth hearing protection headphones, the Pro-Protect sound good with music: they sound detailed and balanced but the bass is a bit too light for my taste. The tuning is very good for audio books and podcasts.
I have found them to be loud enough for even listening to older recordings and quieter audio books in high noise environments (e.g., gas powered lawnmower, circular saw cutting through steel).
The Pro-Protect are OK for making phone calls in quiet and moderately noisy environments. However, when it got louder, people had a hard time understanding me.
In high noise environments, callers could not hear me at all. This is common with Bluetooth earmuffs. Only a select few headsets with a boom microphone can handle a lawn mower at full throttle. (See section call quality for details.)
My unit had a headband with extension sliders that were too loose, i.e., the ear cups didn't always stay at the pre-set extension. I contacted 3M and they told me the cups should stay in place. I hope that my headband had a rare problem and this is not a quality issue. If you get such a unit consider replacing it.
I like the Pro-Protect. With an NRR of 26, gel cushions, awareness mode with limiter, and Bluetooth connectivity they offer a lot and are very economically priced.
Note: Unlike the Worktunes, the Pro-Protect have no additional wired audio input (e.g., 3.5mm jack), so you can only connect them via Bluetooth.
Noise reduction
Noise reduction: rating and labeling
The Pro-Protect earmuffs come in two versions: with gel cushions they have a noise reduction rating (NRR) of 26 decibels, while with foam ear pads the NRR is 25.
The manual includes both the EPA label stating the NRR and the noise attenuation table by frequency, as it should.
(I am pointing this out because some manufacturers omit the attenuation table or don't state the NRR in the correct form, which may be a problem if you want to use your muffs in an occupational setting.)
I tested the model with gel cushions.
An NRR of 26 decibels is very good for Bluetooth earmuffs and headsets with built-in speakers.
For comparison, the Worktunes Connect+AM/FM (WTC+AM/FM) and Worktunes Connect (WTC) both have an NRR of 24 and the Worktunes Connect with gels an NRR of 23.
In case you want to compare more in detail, here is the noise reduction data:
| Earmuffs [mean attenuation in dB, (SD)] | NRR | 125 Hz | 250 Hz | 500 Hz | 1000 Hz | 2000 Hz | 3150 Hz | 4000 Hz | 6300 Hz | 8000 Hz |
| --- | --- | --- | --- | --- | --- | --- | --- | --- | --- | --- |
| 3M Pro-Protect, gel cushions | 26 | 18.8 (2.8) | 21.8 (1.9) | 31.0 (3.0) | 38.0 (3.3) | 35.5 (3.1) | 40.5 (3.8) | 43.2 (4.0) | 43.0 (2.6) | 42.9 (2.2) |
| 3M Pro-Protect, foam cushions | 25 | 18.4 (2.9) | 22.6 (2.2) | 30.6 (3.0) | 38.4 (2.6) | 32 (2.9) | 37.8 (3.9) | 38.8 (4.2) | 38.9 (3.4) | 38.3 (2.6) |
| 3M WorkTunes Connect + AM/FM, foam | 24 | 20.3 (3.5) | 21.6 (2.7) | 30.4 (3.2) | 35.7 (3.1) | 33.1 (3.0) | 36.4 (3.6) | 38.9 (3.9) | 37.3 (3.4) | 36.4 (3.6) |
| 3M Worktunes Connect, foam | 24 | 18.6 (3.2) | 21.0 (2.3) | 28.5 (2.6) | 32.4 (3.2) | 35.1 (2.6) | 39.1 (3.3) | 41.4 (3.1) | 41.7 (3.1) | 41.1 (3.3) |
Noise reduction: personal impression
The Pro-Protect (NRR 26) reduce noise well.
I have tested and compared them in two different high noise environments.
Gas-powered lawnmower (95 to 98 dBA).
Circular saw cutting through metal (ca 98 dBA).
In both environments I felt well-protected.
Subjectively, they attenuated above-mentioned noises noticeably better than the already good WTC+AM/FM (NRR 24).
I also compared them to the Worktunes Connect with gel cushions (NRR23). Despite their lower NRR, I found the WTC+Gel to be about as effective as the Pro-Protect in these two high-noise environments.
This is obviously subjective and may be different in environments with other frequency spectra, but it appears to me that the WTC+Gel punch above their weight.
For more information on the Worktunes models, check my comparative Bluetooth earmuffs test and review.
Consistency of the seal
Regardless of whether I move my head up and down or from side to side, I detect no noise leakage with the Pro-Protect. The gel ear cushions keep a very consistent seal.
(Some earmuffs with foam ear pads leak noise when I move my head from side to side.)
Wearing comfort: headband and ear cushions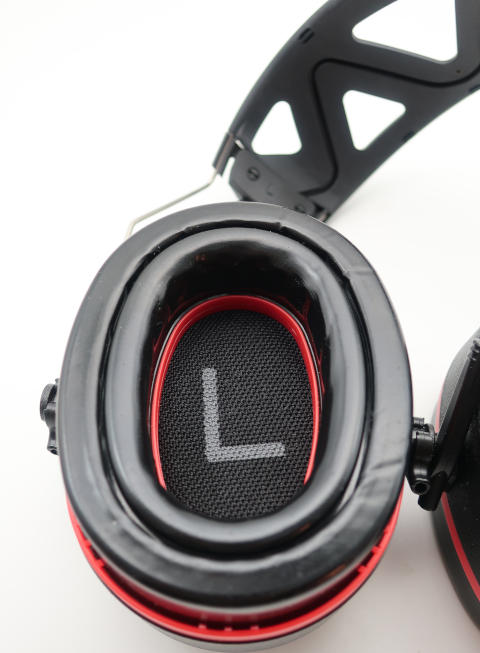 The gel cushions provide more than enough space for my ears. They have large openings and are also quite deep, so these muffs should work for large ears.
The adjustable headband is made out of steel-wires and has a wide rubber top with cut-outs for wearing a ball-cap and better ventilation.
The headband fits my head well, and I would say at its maximum extension it'll work for most heads. If you have a very large head though, it could be a bit small.
The cup depth is 7 cm (2.76 inches), so these are not low profile muffs: they stick out as much as many passive NRR-30 earmuffs.
Overall, I find the Pro-Protect comfortable.
The gel ear cushions are great. After a couple of hours though, I can feel the headband at the top of my head and have to adjust its position.
I have tried the USTS headband cover I use with my Worktunes to improve on that:
The rubber top of the Pro-Protect is wider than that of other 3M headsets, so the headband velcro areas don't completely overlap (perhaps 50%).
A perfect fit it is not, but the cover can still be closed and it increases wearing comfort.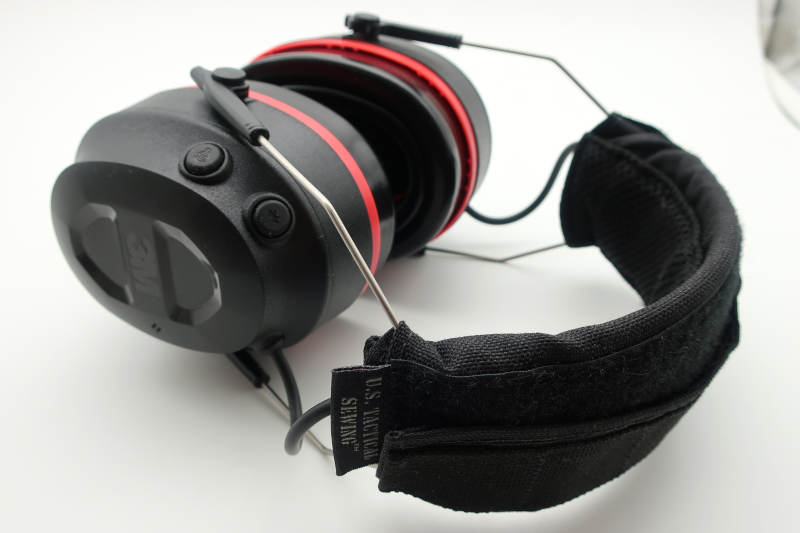 Weight comparison and maximum headband extension
Weighing 15.45 ounces (438 g) with batteries inserted, the Pro-Protect are one of the heaviest hearing protection headsets I own. For comparison, the already heavy WTC+AM/FM weigh about 14.2 ounces (402 g) with normal batteries and a bit less with the optional rechargeable battery pack.
Maximum headband extension and shape for the Pro-Protect are comparable to that of the WTC (without radio). Both models fit me, and I don't have a small head. I think most people should have no problems there.
If, however, you have a very large head, the WTC+AM/FM, have a headband that can be extended much further.
Loose sliders
The sliders on my particular Pro-Protect unit are too loose, which means that at times the cups slide down almost to their maximum extension. They work well for me at that extension, but if you needed to make the headband a lot smaller, this would be a problem.
I have contacted 3M; they stated that that the Pro-Protect sliders should stay put, so I guess I have gotten a unit with a defective headband.
(I have encountered this "loose headband issue" before with a different type of 3M earmuffs and the second pair was OK.)
So if you get a unit where the ear cups don't stay in place consider exchanging the headset. I hope I was just unlucky and this isn't a pattern.
Sound quality and maximum volume
I have tried the Pro-Protect with newer recordings (rock, pop), older recordings (mostly rock), podcasts, and audiobooks.
Vocals sound very good with these headphones and they have the right amount of treble to sound detailed without being harsh. The bass is present, but a bit too light for my taste.
Like all 3M hearing protection earmuffs I own, the Pro-Protect attempt to limit the maximum volume to 82 decibels.
In practice, I found them loud enough for all recordings I listened to, including older music (which is often recorded at a lower level) and audio books.
They appear to be a bit louder than most other Bluetooth hearing protectors with a limiter.
Also, because the Pro-Protect reduce noise well, they keep lawnmower and other machine noise from easily drowning out your music.
Overall, I like volume and tuning of these headphones for high noise environments. They are decent with all kinds of music and very good for audiobooks and podcasts.
How do sound and volume compare to the Worktunes?
Overall sound quality: WTC+AM/FM > Pro-Protect > WTC
I would say the WTC+AM/FM still sound better; they are tuned to be more exciting and offer more bass.
On the other hand, with older recordings and audio books, the Pro-Protect go louder. Moreover, they reduce outside noise somewhat better so you need less volume.
Compared to the normal WTC (without radio), with music I prefer the sound of the Pro-Protect: they sound more detailed and natural.
For vocals and acoustic music, audio books, and podcasts, however, the WTC are as good (and perhaps even a tad better) because they employ a smart limiter that amplifies quieter passages.
Call quality
In the following I am focusing on what callers on the other side are hearing.
Hearing remote parties with the Pro-Protect has not been an issue for me, even in high noise situations, because these muffs reduce noise very well.
Quiet environment
In a quiet environment, the call quality is generally good, but my voice sounds a bit quiet to callers, so I have to make an effort to speak louder than I normally would.
By comparison, the WTC+AM/FM are heard significantly louder on the other side.
Moderate background noise
At a moderate noise level (quieter coffee shop @55 dBA, lawn mower at a distance @ 60 dBA), the call quality with the Pro-Protect was still decent.
Louder everyday background noise
In a louder noise situation (street noise @65 dBA, loud coffee shop) callers had a hard time to understand me. My voice became choppy and parts were missing.
The WTC+AM/FM were not flawless either but worked better in these situations.
High noise environment
In high noise situations, such as against a lawnmower (95 to 98 dBA) or a metal saw (98 dBA), my voice got completely lost. The microphones reduced the background noise quite well but callers could not hear me at all.
This did not come as a surprise to me: this happens with almost all Bluetooth ear defenders and work earplug headphones I have tested.
(I wonder why they never say that.)
The only hearing protection headphones I own that allow for making/receiving phone calls in such high noise situations are the Honeywell Sync Wireless (review), which employ an outstanding boom microphone.
So if you are receiving a phone call on your Pro-Protect while riding a lawn mower or using louder machinery you have to stop the machine or get pretty far away from it.
Basic Operation
The Pro-Protect have two buttons; they are on the right ear cup.
Wearing the earmuffs, I find it easy to locate the buttons, and they provide good tactile feedback.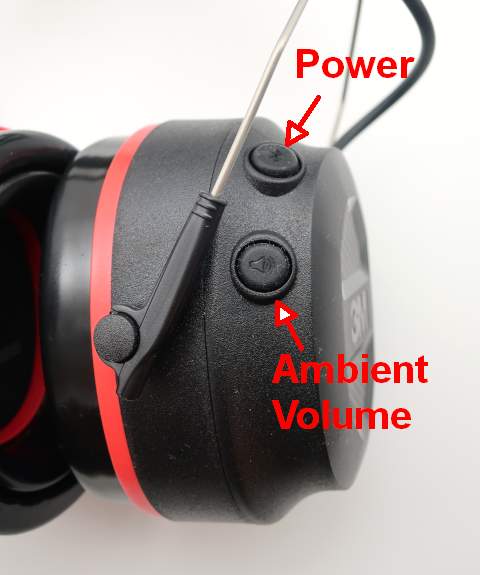 1. Power (= multi-function) button
Keep this button pressed for 3 seconds to turn the earmuffs on and off.
When powered on, press this button to play and pause.
During an incoming phone call, press this button to answer/terminate a call.
Double-press / triple-press quickly to go to the next/previous track.
2. Ambient volume button
Press this button to cycle through 4 ambient volume levels.
Long-press the button to mute ambient sound. Short-press to go back to awareness mode.
The music volume is independent of the ambient volume. You control the music volume on your phone.
Overall, I find the controls straight-forward. They are very similar to the WTC (except for the awareness mode.)
I would, however, prefer to be able to control the music volume also on the headset instead of taking the phone out of my pocket.
Two additional buttons or a volume knob (like on the WTC+AM/FM) can't be that expensive?
Connecting the Pro-Protect via Bluetooth
If you haven't yet paired the Pro-Protect to any device (or the device is turned off/out of reach), the Pro-Protect automatically go into Bluetooth pairing mode.
1. Put on the Pro-Protect so that the voice assistant can guide you and press the power button until you hear Power On.
Voice Assistant: Battery High. Bluetooth Pairing.
2. In the Bluetooth list of your phone, locate the entry 3M Pro-Protect.
For example, on Android (Samsung Galaxy A52 5G) look under Bluetooth->Available Devices.
Note: If you don't find the entry tap Scan on Android.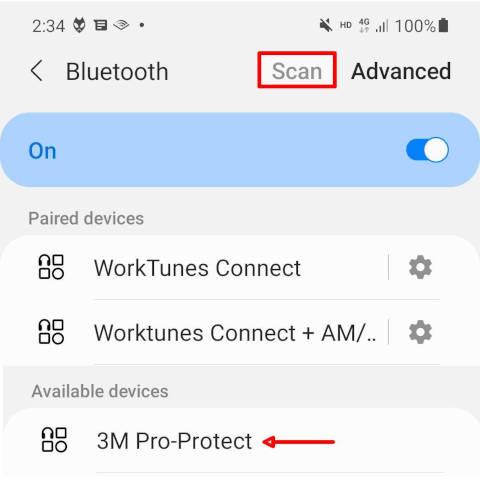 On iPhones/iPads you should find them under Bluetooth->Other Devices.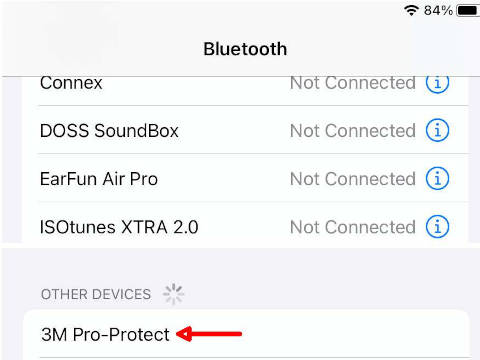 Note: On iOS, if you don't find the entry, turn your phone's Bluetooth off and back on.
3. Tap the entry 3M Pro-Protect and you should hear: Pairing Successful. Bluetooth Connected.
­The next time you turn on the headset, it will automatically re-connect to the most recently connected device.
If you have already paired the headset to a phone and want to connect to a different device:
1. Turn on the headset.
Voice assistant: Power On. Battery High. Bluetooth Connected.
2. Now double-press the power button to put the Pro-Protect into pairing mode.
Voice assistant: Bluetooth disconnected.
3. Locate the Bluetooth entry 3M Pro-Protect on your new device and tap this entry.
Note:
If this is the first time you are pairing to a particular device, you should again see the entry 3M Pro-Protect under Other Devices (iOS) or Available Devices (Android) as shown in the images above.
If this is not the first time, locate the entry under My Devices (iOS) or Paired Devices (Android).
Voice assistant: Pairing successful. Bluetooth Connected. (or just Bluetooth Connected if not the first time.)
Bluetooth connection stability
In my tests, the Bluetooth connection of the Pro-Protect has been very good.
I am getting a solid connection through two walls with my phone (Samsung A52 5G) about 42 feet (13 m) away, turning and moving whichever way I like.
For comparison, my Worktunes headsets (WTC+AM/FM & WTC) start cutting out at that distance.
With no obstacles between the phone and the headset I am getting a good connection at up to about 65 feet (20 m) away.
(3M specifies that headset and phone should be at a distance of less than 25 feet.)
Can you connect to two phones or a phone and a computer via Bluetooth at the same time?
Neither in the manual nor on their website does 3M mention such a feature, but I thought let's give it a try anyway.
As it turns out, the Pro-Protect can connect to two devices at the same time.
So you could, for example, listen to music from one phone while being able to receive an incoming call from a second phone.
There are a couple of issues though:
Powering them on, the Pro-Protect automatically only connect to one, i.e., to the most recently connected device, but not two. So if you want to have two connections, you have to do it manually each time you power on the earmuffs.
If you stream music (or an audio book) from one device and receive a call from a second device, the music / audio book doesn't pause, so upon finishing your call you have to manually go back to where the phone call interrupted you.
At times, there is a volume mismatch when switching between two devices: you might have well-adjusted the volume on both devices but after switching back and forth, the music is suddenly louder.
So the dual-connection function works, but "it still needs some work." Maybe that's why 3M doesn't even say it exists.
In general, I think you are better off just connecting to one device at a given time.
However, if you have to be able to receive calls from two phones, this "unofficial" feature could give you a way out.
Please read my post How to Connect the 3M Pro-Protect to One or Two Devices via Bluetooth for more information.
Awareness mode and level dependent hearing protection
Like other ear defenders, the Pro-Protect passively reduce environmental noise via their noise isolating ear cups.
However, in addition they have two external microphones, allowing you to hear your environment in a controlled way via the built-in speakers.
The Pro-Protect limit the sound coming in via the speakers to 82 decibels to protect your hearing from loud noises.
How does this work?
Suppose you are in a workshop and driving in screws with an electric screw driver that isn't overly loud. You can hear the screw driver and the radio playing in the background via the microphones.
You can also have a chat with your coworker.
Now your coworker starts hammering away at sheet metal on an anvil, producing very loud sounds:" bang, bang."
These "bangs" are being picked up by the microphones and reproduced via the speakers, but their sound level is electronically being limited to 82 decibels.
While the "bangs" last, other ambient sounds (such as the radio in the background) are reduced as well, i.e., the limiter turns down the volume of everything.
On the Pro-Protect, you can adjust the ambient sound level in 4 steps, with step 1 one being the quietest.
Subjectively I would say steps 1 to 3 are quieter than what you would hear with open ears, while step 4 provides a slight amplification.
By long-pressing the ambient volume button (see basic operation), you can also completely mute the microphones, turning the headset into passive hearing protection earmuffs.
How does the awareness mode volume work in conjunction with Bluetooth?
Bluetooth volume and awareness mode volume are regulated separately on the Pro-Protect. In my opinion this is the way it should be.
The volume button on the headset allows you to increase/decrease/mute the ambient sound level (piped in via the microphones) while Bluetooth volume is regulated via your phone.
How good is the awareness mode on the Pro-Protect?
I would say, it is a decent but not perfect reproduction of what you would hear with open ears.
Higher frequency sounds are somewhat attenuated, so some detail is lost, but I still get good awareness of what is going on around me and where sounds are coming from.
Also, I can communicate quite well with the headset on; that is, provided the environmental noise level isn't too high, obviously.
In a quieter environment with no risk of sudden loud noises, I would, however, still prefer to remove the headset to have a longer conversation.
For comparison, the awareness mode of the Bose QC45 noise cancelling headphones preserves more fidelity. With those I can have a chat on a street corner that is as good as it would be without headphones.
But, the QC45 are not hearing protectors and they don't limit the sound level coming in from the microphones to 82 decibels: with awareness mode turned on, they will pipe in loud noise without any attenuation.
When do you need this awareness mode?
I think the awareness mode can be very helpful if you want to protect yourself from intermittent loud noises in an otherwise only moderately noisy environment and retain situational awareness (e.g., hear alarms or quieter machine noise).
You'll also feel less isolated in your workplace and hear more of what people around you are doing.
While riding a loud lawn mower or working in an environment where you are continuously exposed to loud noise, I see much less benefit.
The limiter does effectively reduce constant noise (e.g, the lawnmower), but you don't hear your environment anymore, so you might as well mute the microphones or use earmuffs without an awareness mode.
Battery Life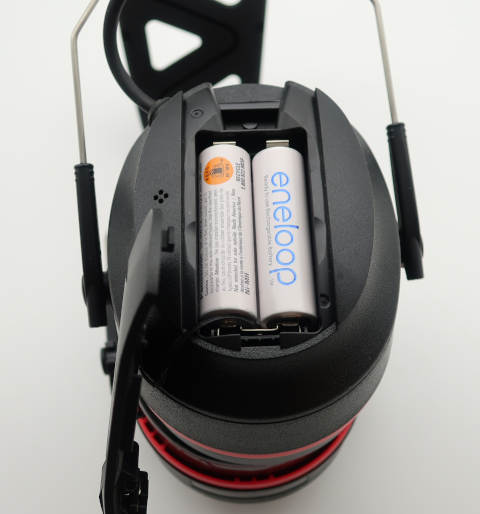 The Pro-Protect are powered with two AA batteries. No batteries were included. You can use either disposable or rechargeable batteries.
I use and recommend rechargeable Panasonic eneloop batteries.
These muffs run for a long time on a single charge:
I am getting about 45 hours of continuous Bluetooth playtime; that is, with awareness mode activated (step 2 or 3) and music playing at about 75% max volume.
If you get four eneloop batteries, you can keep one pair in the muffs and one pair charging/charged and ready to go.
I charge the batteries with an EBL USB charger (more options for power sources), but you can also get an eneloop set with a wall charger.
Remaining battery charge reporting
Eneloop and other rechargeable NiMH batteries maintain their voltage almost until they are empty. In contrast to this, the voltage of a disposable alkaline battery continuously declines as the battery gets discharged.
For this reason, when powered with eneloop batteries, the Pro-Protect will report "Battery High" almost until the batteries are empty and then out of nowhere report "Battery Low."
As mentioned, I keep a second pair of batteries at hand, so I never run out of "gas."
Conclusion
I like the Pro-Protect earmuffs. They effectively reduce noise, have a stable Bluetooth connection, excellent battery life, and an adjustable, noise-level limiting awareness mode. And, the deep gel ear cushions are great: they should accommodate even large ears.
For an electronic hearing protector offering all this, they are very economically priced (at least at the time of this writing).
Should you get these or the Worktunes?
I recommend the Pro-Protect if you want the awareness mode. You are also getting very decent sound quality and good volume even for older recordings and audio books.
For sound quality, my favorite Bluetooth muffs are still the Worktunes Connect+AM/FM. They sound a bit more exciting and have more bass. And they have a good radio.
The normal Worktunes Connect with gel cushions are the most comfortable (for me) and best looking of the three. Also, they have a limiter that amplifies quieter passages, which is very good for instrumental music and audio books in noisy environments. They also make good Bluetooth study earmuffs.
Overall sound quality: WTC+AM/FM > Pro-Protect > WTC.
If you need to make phone calls while running your power tools or riding a lawnmower, all three won't do it.
Please read my comparative test and review of Bluetooth earmuffs for options that work better in this situation.
Finally, currently there are no replacement ear cushions available for the Pro-Protect, while for the Worktunes there are.
Given that it took 3M a while to bring out replacement ear pads for the Worktunes, I am hopeful they will also offer them for the Pro-Protect.
I hope you have found this post useful. Have a great day.